(Last Updated On: November 15, 2023)
Our content is reader-supported. We may earn a commission if you make a purchase through one of our links.
Starting your own business can be a thrilling yet challenging experience. There are several factors that come into play in order to build a business. The lack of planning and proper execution of these factors are some of the reasons why 50% of businesses fail within the first five years.
Considering the risk and challenges that come with running a business, it's a no-brainer that many new startups fail to move past the first year in the market. In fact, statistics shared by the U.S. Bureau of Labor Statistics (LBS) show that nearly one-fifth of businesses fail within the first year itself.
Factors such as money constraints, lack of skilled workforce, and improper expansion planning are only a few of the reasons why many businesses go down. To put things into perspective, nearly 20% of all businesses launched within the same year fail one year into working.
By the fifth year, approximately 50% or more accurately, 49.7% of businesses close down operations. These statistics have been consistent since the 1990s and haven't changed.
We've created this article to understand the breakdown of these statistics and the reasons behind why almost 50% of businesses fail within the first five years.
Understanding the Statistics
As of March 2021, 843,320 new businesses have been established, according to the U.S. Bureau of Labor Statistics. When comparing the statistics and applying them to the number of new businesses, we can expect 168,664 of these startups to shut down within the first two years and 421,660 to fail within the first five years.
Statistics provided by the Small Business Administration (SBA) also state that a little over half (51.1%) of businesses are expected to fail within the first five years. If you think these failure numbers are too high, then you would be surprised to know that the percentage of businesses that fail within the first seven years skyrockets up to 70%.
It's important to note that these figures are not specific to just the United States. According to Innovation, Science & Economic Development Canada statistics, 96% of businesses pass the first year in business. These numbers, however, begin to decline as the years go by, and only 70% of the businesses survive past the five-year mark.
The number one reason why 50% of businesses fail within the first five years in the market is due to the competition that is present, accompanied by problems with cash flow and having a weak founding team.
Top 7 Reasons Why 50% Of Businesses Fail Within the First 5 Years
Not meeting the market needs
Lack of flexibility
Rapid expansion
Financing issues
An ineffective business plan
Starting a business for the wrong reasons
Poor location choice
Considering the statistics regarding business failure, you would want to know the reasons why 50% of businesses can't seem to make it past the five-year mark. Therefore, to narrow the list of possibilities, we have curated this list of the top seven reasons why businesses fail.
1. Not Meeting the Market Needs
Many people start a business for various reasons, such as passion (31%), wanting to be their own boss (47%), or earning more (8%).
Although these reasons seem good enough on a surface level, when digging deeper, they lack the fundamental ideology that is required of any business. A business needs to survive within a highly competitive market and meet market demand.
If there is no demand for the product or service you want to provide, then passion will not do you much good in terms of getting clients. Simply put, the customer is always right, and in this case, it's all about them.
It's not surprising to note that almost 42% of businesses fail due to not researching the market need for the product. It does not matter how cutting-edge or high-end your product is. If there is no demand, then there will be no sales.
2. Lack of Flexibility
You have met the market demand and set up your venture. You keep things the same and it does great for the first four years, but then you start struggling in your fifth year. What could be the cause? The answer is that you aren't flexible with your business.
As mentioned earlier, there needs to be a demand for your products. However, an even more important thing to note is that market demands are fluid, which means they will not remain constant. If your product was in demand 10 years ago, it would not remain in demand 10 years later.
You continuously need to keep reevaluating your products to match the trends. If you remain too rigid and decide against changing with the times, you fall back into the category of not meeting the market demands. CBinsights list lack of flexibility as one of the many factors that make up 10% of the reason for business failure.
3. Rapid Expansion
Once you have established a successful business, the next step is setting up for expansion. Expansion is one of the most exciting yet the most challenging point for a new business. One has to treat expanding a business as starting over again. This has to be done with proper research and planning.
However, most businesses jump into expansion without proper planning. If you are expanding to open a new branch, you will need to hire a branch manager and a dedicated team to take care of that branch. On the other hand, if you plan to expand by adding new products to your line, you will need to research the market demands and the product's value.
Expansion that is not planned out and done purely based on how successful you are currently is the major reason many new businesses have to file for bankruptcy.
4. Financing Issues
Significant portions of businesses enter the market with insufficient funds. Due to improper financial planning and a lack of financing options, many companies have to shut down. For example, if you are a new business owner whose company is suffering losses and lacks capital, you won't be eligible for a loan. What other financing options do you have?
Statistics show that in 2018 alone, 82% of businesses that went under stated cash flow as the number one reason for their failure. The second most common reason for startup failure (29% of the time) is a lack of finance and personal funds.
Therefore, it's imperative to plan your finances realistically before launching your startup. You must understand how much you need to start a business and the amount required to stay in business until your sales take off.
5. An Ineffective Business Plan
Anyone with even an ounce of managerial experience knows that hard work and meticulous planning go hand in hand when running a business smoothly, regardless of what scale it's on.
Planning is the root of a successful business. With a plan, you know how the company will run, meet its goals, and overcome any problems that may arise. Once you have a plan, it's easy to execute the primary functions within the company. The most important thing is to stick to the plan. If you begin second-guessing it, you will fail.
6. Starting a Business for the Wrong Reasons
To start any project with the right intentions is something we have often heard. Starting a business requires the same mindset. When a company fails, the owner's justifications for launching it are frequently to blame.
Was the reason behind the startup a hunger for money or wanting more flexibility? While these are the motivations for many to establish their enterprises, they are actually insufficient. The right rationale for starting a business leads to its success.
7. Poor Location Choice
Location matters a lot when setting up a business, especially one that requires a constant flow of customers, such as a restaurant or a shop. On the other hand, if you rely on online presence to make yourself known, then poor online marketing strategies will be your demise.
Often businesses plan everything but overlook the selection of adequate locations. Instead, they allocate separate funds for their online marketing strategies. The criteria for a good location can be ambiguous and hard to narrow down for new entrepreneurs. Some factors to consider when deciding the ideal location are:
Noting where your customers are predominantly located
Location of competitors
Accessibility in terms of traffic and parking
The condition of the building you will be renting
The cost of renting the site
The location does not have to be a large storefront. Businesses that can do without foot traffic can operate conveniently as a home-based venture. Try launching your business in the best states to start a business, and avoid setting up shop in the worst ones if you can.
Conclusion
Although starting a business may not look favorable when looking at statistics stating that 50% of businesses fail within the first five years, it's essential to look at the positives that the other 50% gets past the five-year mark and flourishes.
How you can overcome the 50% failure rate is based purely on how well-researched your knowledge is in regard to running and maintaining a business.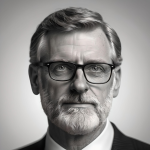 Dr. Alexander Sterling, Esq, a distinguished legal scholar with a business law degree and a Doctor of Juridical Science, is a leading expert in business registration and diverse business departments. Renowned for his academic excellence and practical insights, Dr. Sterling guides businesses through legal complexities, offering invaluable expertise in compliance, corporate governance, and registration processes.
As an accomplished author, his forthcoming book is anticipated to be a comprehensive guide for navigating the dynamic intersection of law and business, providing clarity and practical wisdom for entrepreneurs and legal professionals alike. With a commitment to legal excellence, Dr. Alexander Sterling, Esq, is a trusted authority dedicated to empowering businesses within the ever-evolving legal landscape.