(Last Updated On: November 15, 2023)
Our content is reader-supported. We may earn a commission if you make a purchase through one of our links.
Establishing a limited liability company (LLC) allows you to create a solid divide between personal and business assets in the event of a lawsuit or other financial trouble. The best business bank accounts for LLCs make it easy to do so while offering compelling features to help keep your enterprise ahead of the competition.
We chose Bluevine for the top spot due to its high interest rates, minimal fees, and unlimited monthly transactions. Read on to discover more about Bluevine and our other favorites in this comprehensive review.
Best Business Bank Accounts for LLCs
Bluevine: Best Overall
Capital One: Best for Unlimited Transfers
Lili Banking: Best for Tax Optimization
Axos: Best for Full Service Banking
Novo: Best for Low Fees
NorthOne: Best for Integrations
NBKC Bank: Best for Customer Service
Bluevine – Best Overall Business Bank Account for LLCs
Pros:
High interest rates
No minimum deposit required
Very few fees
Unlimited transactions
Cons:
Monthly transfer limits
Checking accounts only
Fee for cash deposits
Bluevine brings a lot to the table, with an outstanding interest rate, minimal fees, and unlimited transactions. Such features earn it top billing on our list.
Fees: 5/5
It doesn't get much better than Bluevine when it comes to fees. The fintech company doesn't have a monthly fee and doesn't charge a dime should you overdraft your account. With Bluevine, it's possible to meet all your banking needs without ever having to pay for a single service.
Unlike some sites, Bluevine does make clear what members will have to pay for. Using an out-of-network ATM will set you back $2.50, and any cash deposits you make will incur a $4.95 fee. Outgoing wires are a flat $15, lower than most other institutions.
Interest Rates: 5/5
Bluevine's 1.5% APY is 50 times the national average and leaves many other bank accounts in the dust. This interest rate allows you to earn money on your company's income without having to shuffle funds to a savings account and back. Note that you can only accrue interest on amounts up to and including $100,000. Anything in your account beyond that won't earn a thing.
To obtain this high interest rate, members have to either spend $500 per month with a Bluevine Business Debit Mastercard or receive $2,500 per month into their account through wire transfer, ACH, or mobile check deposit. Cash deposits do not count. Should you fail to meet one of these requirements, your account will not earn interest that month.
Lending: 5/5
Those needing extra funds for an upgrade or big project can obtain a line of credit from Bluevine. Credit maxes out at $250,000 with a minimum 4.8% interest rate, following an easy application process. It's possible to have results within a few minutes of submission.
To be eligible, you must have at least six months in business, $10,000 in monthly revenue, and a personal FICO score of at least 600. Meeting these criteria does not guarantee approval.
Additional Features: 3.5/5
Bluevine doesn't have many extras, but users can deposit cash and checks at any Green Dot location around the country. There's a fee for doing so, but it still beats banks that don't allow these deposits at all.
With unlimited monthly transactions, you can stay on top of outgoing expenses. Bluevine's bill pay feature helps manage all these from one convenient dashboard.
Customer Support: 4/5
You can reach out to Bluevine at any time through email but expect a bit of a delay with a response. Anyone with urgent issues can call Bluevine directly during the work week from 8 am to 8 pm EST.
Overall Score: 4.8/5
Capital One – Best Business Bank Account for Unlimited Transfers
Pros:
Unlimited free digital transfers
Low minimum deposit needed to join
Does not charge overdraft fees
Cons:
Limited physical locations
Monthly account fees
Low business interest rates
Capital One has two business checking accounts and one savings account, each allowing an unlimited number of digital transfers. Online bill pay facilitates electronic payments, and overdraft coverage protects against mistakes along the way.
Fees: 4/5
Both Capital One's business checking accounts have monthly fees for use, but each can be waived with a high enough balance. The Basic plan charges $15 a month for balances under $2,000, whereas the Unlimited plan costs $35 unless you maintain a $25,000 minimum. Its business savings account normally requires $3 per month but charges nothing with at least a $300 balance.
There's no charge for the first $5,000 in cash deposits each month, but you'll pay $1 for each $1,000 thereafter. Capital One will collect $2 for using an out-of-network ATM, and there are high fees for both outgoing and incoming wires.
Interest Rates: 3.5/5
Although there are differences between Capital One's two business checking accounts, neither offers an opportunity to earn interest on your money. If you place excess funds into the business savings account, you will accrue a 0.2% APY for up to $5 million.
Lending: 5/5
There's no shortage of lending options with Capital One. Whether you're looking at a loan or line of credit, it's possible to obtain anywhere from $10,000 to $5 million to use as you see fit. Rates vary depending on size and risk.
To apply for a loan or line of credit, you must first have been in business for at least two years. Second, you need to open a business bank account with Capital One. Meeting these requirements does not guarantee approval.
Additional Features: 5/5
Over 70,000 ATMs around the United States call Capital One home, and members can use them without paying a fee. This lofty amount supersedes many other banking establishments out there.
In addition, users can deposit up to $5,000 in cash each month without paying a penny in surcharges. Those looking for some additional credit can pick up one of the many business credit cards Capital One has on file.
Customer Support: 4.5/5
Capital One has a lengthy library full of support guides for those in need of help. The bank also uses a digital assistant to provide answers or connect users to a live agent. If chatting isn't your thing, you can call Capital One's customer service number and speak to someone over the phone.
Overall Score: 4.7/5
Lili Banking – Best Business Bank Account for Tax Optimization
Pros:
Tax optimizer
No minimum balance or monthly fees for standard account
Can place money in savings buckets for future use
Cons:
Several features are locked behind Lili's Pro membership
No APY in the free account
No wire transfers
Lili comes prepared to meet the needs of business owners with a proprietary tax optimizer to avoid overpaying and keeping track of expenses. The service also comes with fewer fees and overdraft protection.
Fees: 4/5
Those signing up for Lili can choose between two business bank accounts, Standard and Pro. The Standard service doesn't charge a monthly fee, while Pro charges $4.99 per month for its features.
You will need to watch out for ATM fees while using Lili. Although there are over 38,000 fee-free ATMs around the country, those not included in Lili's network will cost $2.50 per use. Lili charges a whopping $5.00 at international machines.
Interest Rates: 4/5
When choosing the ideal Lili bank account for your business, be aware that interest rates differ. A Standard account does not offer any interest on your money, but members earn 1% APY while enrolled in Lili's Pro account. You'll end up paying $4.99 per month in fees, so it will take at least $50,000 in your account to offset this cost.
You can transfer funds into savings buckets at any time to save a portion of your income for a rainy day. If you can deposit at least $1 daily into this makeshift savings account, Lili will bless you with 1% APY on the funds within.
Lending: 2/5
Lili doesn't offer anything for business owners looking to obtain a line of credit or a loan for business purposes. Anyone in need of these additional funds will have to look to other sources.
Additional Features: 5/5
The star feature in Lili's repertoire is its tax optimizer. With this tool, you can keep a watchful eye on what you owe and remove the risk of overpaying at tax time. It's also possible to record business expenses for write-off purposes, and Lili will factor in the savings. If that's not enough, the software can automatically set aside a portion of your income for taxes so you don't miss the deadline.
When juggling expenses and money transfers, it is possible to run a particular account dry. If this happens, Lili protects your account for up to $200 in overdraft protection.
Customer Support: 4/5
Lili Banking has run-of-the-mill email support alongside phone support during the work day. It can take a few days to hear back by email for non-urgent matters. Should you need to call, do so between 9 am and 7 pm EST.
Overall Score: 4.6/5
Axos Bank – Best Business Bank Account for Full Service Banking
Pros:
Several checking and savings account options
Unlimited domestic ATM fee reimbursements
No monthly maintenance fees or balance requirement for basic checking
Cons:
Low APY on business savings accounts
Some accounts require high deposits
Poor customer service
Axos Bank helps owners keep personal and business funds under one umbrella with an extensive offering of accounts. Members have access to a full service of options, including checking, savings, money market, CDs, and loans.
Fees: 4.5/5
Of all its business options, Axos only charges a $10 monthly fee for its Interest Checking account. However, Axos will waive this fee should you maintain at least a $5,000 balance. Other business accounts for both checking and savings don't have such requirements.
The only additional costs Axos users need to deal with concerns outgoing wire transfers. Expect to pay no less than $35 for any amount you send, whether domestic or international.
Interest Rates: 4.5/5
Interest rates for Axos vary from account to account. The Interest Checking account earns 1.01% APY on amounts up to $49,999.99 but drops to 0.20% or lower for anything beyond that. Basic Checking does not provide an opportunity to grow funds through interest payments.
Axos does have business savings accounts for company owners with money in excess. Anything placed in this account will generate 0.20% APY.
Lending: 4.5/5
As a full-service financial provider, Axos showcases a slew of loans and lines of credit. The downside is that the lowest requestable amount is $1 million, potentially more than a small business needs. Small business administration loans are available but require an inquiry to learn more.
When you apply for loans or lines of credit, there is a little wiggle room regarding payback terms.
Additional Features: 4/5
At the time of writing, Axos rewards new small business owners with a $200 bonus placed directly into a checking account. Those signing up must have incorporated after June 1st, 2020 to earn the bonus.
Axos Bank will also reimburse any fees you encounter from out-of-network ATMs around the country. With over 91,000 in-network ATMs, you may never have to use this feature.
Customer Support: 2/5
The online bank has a 24/7 customer service number members can contact to sort out problems. Even so, customers often state the help they receive is lackluster at best.
Overall Score: 4.5/5
Novo – Best Business Bank Account for Low Fees
Pros:
No cost wire transfers
Zero monthly fees or minimum balance required
Financial organizer
Refunds all ATM fees
Cons:
Cannot deposit cash
Fee for overdrawn accounts
No savings accounts
Novo doesn't charge for incoming or outgoing wires while also reimbursing users for any ATMs they use. In fact, you'll only find a fee if you overdraft your account while doing business.
Fees: 5/5
You can look high and low without finding a fee for Novo. Everything you can do with the fintech is completely free, including getting money back for using out-of-network ATMs. There are no monthly fees, charges for check deposits, or a cost to send wire transfers.
Novo requires a $50 deposit when you start your account, but this money is still yours to do as you please. You'll only encounter a fee with Novo if you overdraft your account, where the company will charge $27. Fortunately, this penalty is completely avoidable with a bit of planning.
Interest Rates: 2/5
Novo's checking account has a lot going for it, but there's no way to earn interest while you bank. At this time, the APY is a resounding 0%, with nothing in the works to change this.
Lending: 2/5
Should you want a loan to cover a particular business expense, you'll have to look elsewhere. Novo doesn't offer any loans or lines of credit for its customers. While not a dealbreaker, there's something to be said about the convenience of having all your banking in one place.
Additional Features: 4.5/5
Opening a Novo business checking account unlocks a bunch of perks for popular apps such as Stripe, Zendesk, and Google. With your Novo partnership, you can save hundreds of dollars when signing up for or using these other business apps.
No matter where you are in the country, you don't have to worry about locating a Novo-friendly ATM. The service provides access to thousands of in-network machines and will reimburse any fees for using out-of-network ones.
Customer Support: 4/5
Novo's customer support is fairly standard, citing an email address as a primary point of contact. It does have phone support via a number hidden away on the FAQ page. It's possible to get someone on the phone during the work week from 9 am to 6 pm EST.
Overall Score: 4.3/5
NorthOne – Best Business Bank Account for Integrations
Pros:
Integrates with popular business apps
Unlimited free transfers each month
Instant support from actual humans
Cons:
Monthly fee
No international wire transfers
No interest rate
Through NorthOne's many app integrations, users can quickly and easily perform all their accounting needs without having to repeat work.
Fees: 4.5/5
NorthOne works hard to limit fees for its clientele. The online bank charges $10 per month for what it calls a deposit account. After paying the monthly fee, all ACH payments, transfers, deposits, purchases, and integrations are completely free. Many banks charge individually for these services, making NorthOne worth considering for those who move around a lot of funds.
The only other charge you may incur is a $15 fee any time you send or receive a domestic wire. NorthOne does not have the capability to send international wires.
Interest Rates: 2/5
As a deposit account, NorthOne sees itself as a means to facilitate transfers within your business alongside suppliers and clients. There's no way to earn interest on the money you hold in NorthOne's care.
Lending: 2/5
NorthOne doesn't have the means to supply loans or lines of credit to its customer base. Anyone in need of a large sum of cash will have to turn to another provider.
Additional Features: 4.5/5
Within NorthOne's feature set are virtual envelopes you can use to categorize funds for specific purposes. These envelopes can help you plan for upcoming expenses such as payroll, taxes, or rent. They are also a great location to start saving for a large upcoming purchase that you don't want to use a loan for.
NorthOne allows an unlimited number of free transfers after meeting the $10 monthly fee. It's also possible to deposit funds via cash or check without incurring any additional cost.
Customer Support: 5/5
All communications to NorthOne go straight to an actual human being, not some automated email response center or a chatbot. It doesn't take long to receive a return email, but you can get an even quicker answer through live chat any day from 8 am to 10 pm EST. NorthOne does not have a phone number, but you can request a call from the staff if nothing else works.
Overall Score: 4.2/5
NBKC Bank – Best Business Bank Account for Customer Service
Pros
Stellar customer support team
Has some physical branches
No monthly fee or minimum balance
Cons
Locations limited to Kansas and Missouri
Expensive international wires
Can't deposit cash
NBKC Bank may only have physical locations in the Kansas City area, but its top-notch customer support staff make banking easy from anywhere.
Fees: 4.5/5
You'll find a lot of zeros when looking at NBKC's fees, and that's a good thing. There's no cost to set up or maintain an account, nor does the bank charge for overdrafts or returned checks. It is possible to deposit checks into your account from anywhere there's internet, but cash is off limits.
The only charges to watch out for come from outgoing domestic or international wires. The former costs $5 per transaction, but the latter is much higher at $45 each time.
Interest Rates: 2/5
There's no interest rate linked to NBKC's business checking account. Most services are free to use, but members won't grow their funds.
Lending: 4.5/5
NBKC Bank has several lending options for small to medium-sized businesses. You can take out a loan for as low as $25,000 or go significantly higher for big-ticket items. The company also features several lines of credit where you only pay interest on what you use.
Additional Features: 3.5/5
If you live in the Kansas City area, you have the benefit of four branch locations to do business in as needed. Other users are limited to online financial dealings.
The bank will reimburse your account up to $12 each month for fees from non-NBKC ATMs around the country.
Customer Support: 5/5
NBKC Bank's shining light is its customer support team. While these individuals only work during business hours, each member works quickly to obtain the answers you need. Better yet, there's no frustration in dealing with automated assistants before you talk to an actual human being. For less urgent matters, you can also email the group at any time.
Overall Score: 4/5
Our Methodology for Selecting the Best Business Bank Accounts for LLCs
As we researched the best business bank accounts for LLCs, we kept the following factors in mind when making our selections.
Fees
Businesses of all sizes need to count the costs of enrolling in a new service, whether necessary or otherwise. The best business bank accounts for LLCs should not drain your tank of funds as you manage them. Furthermore, it's important for banks to be upfront with charges so you can avoid paying a premium for the features you need the most. The last thing a company needs is to limit business operations because of high deposit fees or monthly balance requirements.
Interest Rates
When placing hard-earned income into a business bank account, it's nice to generate a little scratch through interest accrual. While uncommon for a checking account to earn interest, the best business bank accounts do just that. At the very least, a bank should offer a savings option for excess money to grow.
Beware institutions offering APY while charging a monthly fee to keep the account open. The two often cancel each other out, leaving you no better financially for having used the service.
Lending
There comes a time in every business's trajectory where a shot of cash is needed to overcome a financial hurdle or move operations to the next level. When that time comes, it's helpful to have a bank offering loans or lines of credit you already have a rapport with. Many establishments require a relationship before granting such funds anyway.
Additional Features
While the banking world revolves around money, the best business bank accounts throw in some additional features that may speak to your specific business needs. If your organization handles a lot of cash, free cash deposits are a huge plus. Those looking to manage finances better can benefit from savings buckets to tuck funds away in. Some banks even partner with other entities to offer perks or facilitate accounting.
Customer Support
Often an afterthought, the right customer service team can spell the difference between success and disaster should an issue arise. If you can't access your funds, only a well-trained support crew will quickly get you back on your feet. The last thing any business needs is to stall operations while waiting for an email response.
How to Open a Business Bank Account for an LLC
Opening a business bank account may seem like a daunting task. The answers to the following questions will help point you in the right direction.
Is an LLC Required to Open a Business Bank Account?
Any type of organization can open a business bank account with the right credentials. Even sole proprietorships, run by a single individual, can benefit from all business bank accounts have to offer. Depending on your business model, here's what you'll need to sign up:
Sole Proprietorship – A "doing business as" certificate
Partnership – A business partnership agreement and potentially a business license
Limited Liability Company – An operating agreement, articles of organization, and business license
Corporation – Corporate bylaws, articles of incorporation, a corporate resolution, and a business license
Is It Possible To Open a Business Checking Account at a Credit Union?
Many credit unions offer business checking accounts in addition to personal services. Establishments such as First Tech Credit Union and Digital Federal Credit Union have more of a national presence, but a local credit union may provide unique benefits for an LLC in your particular state.
What Do I Need To Open a Business Bank Account?
When approaching a financial institution as an LLC to start up an account, you'll want to have proof of identification in the form of a photo ID. On the business side, be prepared to share your employer ID number (EIN) and articles of incorporation. Keep in mind that banks may request more than just this information depending on their guidelines.
If an account requires a monthly fee or minimum opening deposit, be sure to have funds on hand for those.
What Bank Doesn't Charge Monthly Fees for a Business Account?
Several banks don't have monthly fees to maintain a business account. Of those on our list, Bluevine, Novo, and NBKC Bank have no such requirements across any of their plans. Those that do charge monthly fees may offer additional features, including an interest rate, that may offset any costs.
Can I Open a Business Bank Account Without an EIN?
If you've established an LLC, chances are you've already obtained an EIN for tax purposes. Any LLC with more than one employee does require an EIN to open a business bank account. However, single-member LLCs or sole proprietorships can get by using a social security number instead.
What Is the Average Interest Rate on a Business Loan?
Interest rates rarely hold still for long and can quickly change depending on a number of factors. Anything from the lender to the type of loan and your financial situation can play a role in the interest rate offered for a business loan.
Small business loans typically range from 3% to 7%, but online loans can soar to astronomical heights if the bank feels there's a lot of risk involved.
How Do I Choose the Best Business Banking Account for Me?
As you compare business bank accounts, keep an eye out for fees that can take away from or interest rates that can add to your funds. If planning for big expenses either in the near or distant future, select an account with lending opportunities when that time comes. Don't forget additional features designed to work with your business model and how easy it will be to reach customer service with issues along the way.
The Best Business Bank Accounts for LLCs – Final Thoughts
Business bank accounts allow a clear separation from personal and company funds. Financial institutions don't work for you, so be sure to weigh the pros and cons surrounding fees and benefits before enrolling in an account. Choosing the right account may give your venture the necessary tools to rise to the top.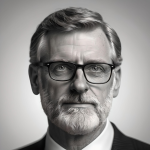 Dr. Alexander Sterling, Esq, a distinguished legal scholar with a business law degree and a Doctor of Juridical Science, is a leading expert in business registration and diverse business departments. Renowned for his academic excellence and practical insights, Dr. Sterling guides businesses through legal complexities, offering invaluable expertise in compliance, corporate governance, and registration processes.
As an accomplished author, his forthcoming book is anticipated to be a comprehensive guide for navigating the dynamic intersection of law and business, providing clarity and practical wisdom for entrepreneurs and legal professionals alike. With a commitment to legal excellence, Dr. Alexander Sterling, Esq, is a trusted authority dedicated to empowering businesses within the ever-evolving legal landscape.