(Last Updated On: November 15, 2023)
Our content is reader-supported. We may earn a commission if you make a purchase through one of our links.
Finally, starting off with your dream venture? Make sure to set off with your best foot forward. New entrepreneurs often make the mistake of spending and receiving money from their personal bank accounts. While it may appear more convenient at first to keep your financial status quo, merging your personal and work accounts could cause some significant issues in the long run.
Now there are many different business bank accounts available, such as business checking, savings accounts, merchant services, and even business credit cards. Naturally, each comes with its own purpose and perks. After all, your business is likely to use more than just one account!
Wondering what goes into opening a business bank account? We've got you covered! Read on to learn more about how to open a business bank account.
Why Do You Need a Business Bank Account?
There are several advantages to creating a business account. It can help you stay legally compliant, give financial security, and appear more professional to customers and vendors.
Business bank accounts provide your business legitimacy
Bank accounts designed for small businesses may provide your business with multiple signature authority
Separating corporate and personal bank accounts and keeping separate financial records is a wise practice, especially when it comes to tax season
All these benefits are the reasons why the most successful businesses prefer opening a business bank account of their own. Below, we've listed the steps on how to open a business bank account:
How to Open a Business Bank Account
Acquire the necessary documentation
Select the right bank account
Find the most suitable bank
Check the possible account costs
Open a business bank account
Deposit your funds into your account
Step 1: Acquire the Necessary Documentation
The first step of how to open a business bank account is acquiring and gathering all the necessary documentation and paperwork.
Make sure you've got all the relevant documentation at hand and ready before deciding where you're opening a business bank account. We've included the most typical criteria for each of the various types of businesses, as well as the standards that will apply to all business bank accounts.
Typical Business Account Prerequisites
Personal ID: Regardless of your company's legal structure, all signee's on an account must submit their SSN (especially when registering a business in the US) as well as another kind of state-issued identification.
Business identification: Excluding solopreneurs (solo entrepreneurs), you'll be legally required to provide an Employer Identification Number for your business.
Sole Proprietorship Account Prerequisites
Certificate of a Fictitious Business Name: Does your business operate under a different name than your own? If this is the case, you'll have to provide a fictitious business name certificate, which is more commonly known as a DBA certificate.
Partnership Account Prerequisites
Organizational documents: This includes your partnership contract and any other organizational documents you created when you founded your partnership.
Licenses/Potential documentation: A signed declaration of unincorporated enterprise and all appropriate business permits may also be required. For instance, if you're starting a construction company, you'll require multiple permits.
Corporation Account Prerequisites
Incorporation Articles/Bylaws: A certified copy of your incorporation articles will be requested. A recent copy of your existing bylaws may also be required by some institutions.
Corporate charter: On the off chance that your incorporation articles do not specify who is permitted to sign, you'll need to offer a supplemental corporate charter that contains these details.
Corporate resolution: A signed corporate resolution and a signature card signed by the account signee/signers may be an additional requirement.
Enterprise licenses: Additionally, depending from bank to bank, an enterprise license may also be required
Limited Liability Company (LLC) Account Prerequisites
Organizational Articles: An attested copy of your articles of organization, like your articles of incorporation, will be required.
Operating agreement: You must supply an operating agreement outlining who in the LLC has the capacity to do business.
Other likely documentation: As always, some banks may require your current business license before allowing you to open up a bank account with them.
Step 2: Select the Right Type of Business Bank Account
Selecting the right bank can sometimes be an overwhelming process when creating a business account. Selecting the right business bank account is a crucial component when starting a business.
See, though conventional banks and Internet banks both provide similar accounts, they differ when it comes to fees and service offerings. Generally, e-banks (online banks) are typically a better solution for firms that do not require frequent monetary deposits and can primarily conduct business through online payments.
On the other hand, traditional banks typically provide a broader range of banking goods and services, as well as increased client interaction, including in-person and video-calling alternatives.
Free-Of-Cost Business Account
Numerous banks may impose a monthly fee to keep a company's checking/savings account, which can be avoided by maintaining minimum balances or avoiding exceeding transaction limitations. Some financial institutions may even provide a business account – one that comes coupled with considerably more lax restrictions.
It's important to bear in mind that holding a free business checking account doesn't guarantee that you will not be charged any fees.
Conventional Checking Account for Small Businesses
A standard checking account for small businesses allows you to deposit and withdraw cash, issue checks and use a debit card to make purchases and for cash withdrawals.
As per the norm, maintenance costs, transaction fees, ATM fees, and deposit fees are all day-to-day occurrences. Of course, most of these overhead costs can indeed be avoided by developing a good relationship and steering clear of out-of-network ATMs.
Checking Accounts for Online Businesses
When it comes to businesses that operate online or don't handle day-to-day cash transactions, opting for an online bank account is the way to go. Because these accounts often impose restrictions upon cash deposits, they are a fantastic solution for firms that do not need to visit a physical branch or conduct daily cash transactions.
Savings Accounts for Businesses
When it comes to savings accounts, you'll have a secure location for your money to grow while accruing interest. Save money to fuel future requirements like supplies or growth. To choose the most promising business savings to account for your needs, compare account terms, account fees, and balance requirements.
Step 3: Find the Best Business Bank
The next step in creating a business account is selecting a suitable bank. Below are the most pivotal aspects to factor into your decision when you're thinking of creating a business account.
Existing relationship: In case you've got a pre-existing relationship with a bank, it may be easier to open an account with the same institution. If you require a business loan, their understanding of your needs and requirements may prove to be invaluable.
Mobile/Online experience: Are you an advocate of online banking? If so, then be sure to confirm that the bank you're eyeing to select provides an excellent online experience, such as online invoice payment, wireless cash transfers, and mobile deposits.
Fees: Take into account the bank's possible fees, such as transactions and ATM use. Be sure to take into consideration whether they will refund you for the overhead cost of using out-of-network ATMs.
Read our guide to the best business bank accounts to find your best pick.
Step 4: Check the Possible Account Costs
Most banks reduce fees, provided specific requirements are fulfilled, such as retaining a minimum balance or keeping transaction restrictions within reasonable boundaries. Check to see whether there are any transaction costs, premature cessation costs, or minimum balance requirements.
Step 5: Finally Open Your Business Bank Account
As you've gathered up all of your paperwork, you're finally ready to move on to opening a business bank account of your own.
Whether you apply in person or online, have the necessary documentation for your detailed business structure ready to show, or alternatively, submit it to the bank's website.
Step 6: Deposit Your Funds Into Your Account
The final step after creating a business account is to deposit your funds. You can accomplish this by transferring funds from another, pre-existing account, writing a check, or simply depositing cash. Once you're done with this, congratulations! Your business account is now ready for use.
Read our guide on how to finance your small business if you want tips on raising funds for your venture.
How to Open a Business Bank Account – FAQs
Naturally, we understand that there are many questions, challenges, and hurdles you'll face when you want to learn how to open a business bank account.
For that reason, we've listed some of the most commonly asked questions when it comes to understanding how to open a business bank account.
1. Do I need a business account?
If you are a sole proprietor, you can accept checks written out to yourself and deposit them in your personal account. However, this is not ideal because you would want to be able to clearly identify the money made from your business, who it came from, and, of course, who you have had to pay for business services or commodities. 

Separating the business money into a business account makes this much easier.
2. What type of account do I even need?
Essentially, a traditional check-based current account. You may also be interested in a high-interest savings account, but not right away because much of your cash will be invested in the firm. Choose weekly bank statements to gain additional control over your cash flow and any problematic debtors.
3. What is a Business Card?
Your bank will most likely offer you, and you should accept a business card. This allows you to simply withdraw cash and pay for everyday goods. This is not a credit card; it's intended for short-term credit and must be paid off by direct debit each month. 
How to Open a Business Bank Account – Bottom Line
Starting your own business is a risky yet lucrative deal, and whether you've formed an LLC or are a solopreneur, the next step for most business owners is to open a separate business bank account. This will give your small business greater flexibility, convenience, protection, rewards, and security.
When it comes to the long-term, keeping your personal funds separate from your business bank is well worth the benefits.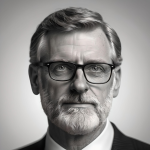 Dr. Alexander Sterling, Esq, a distinguished legal scholar with a business law degree and a Doctor of Juridical Science, is a leading expert in business registration and diverse business departments. Renowned for his academic excellence and practical insights, Dr. Sterling guides businesses through legal complexities, offering invaluable expertise in compliance, corporate governance, and registration processes.
As an accomplished author, his forthcoming book is anticipated to be a comprehensive guide for navigating the dynamic intersection of law and business, providing clarity and practical wisdom for entrepreneurs and legal professionals alike. With a commitment to legal excellence, Dr. Alexander Sterling, Esq, is a trusted authority dedicated to empowering businesses within the ever-evolving legal landscape.