(Last Updated On: November 15, 2023)
Our content is reader-supported. We may earn a commission if you make a purchase through one of our links.
As a business owner, you may want to conceal ownership for a variety of reasons. One of the most popular reasons to hide ownership of a company is to prevent lawsuits.
Most public organizations freely share their shareholder's data on their public websites or official documents. This information is shared by businesses to gain customers' and clients' trust. However, members of an anonymous company don't have to share this data. They don't have to disclose information in any public documents or websites.
You can hide ownership of a company if you register your business anonymously and move your assets into the said company. After that, this business can then be used to open business bank accounts or buy different assets. Connecting an anonymous business to its owner in some countries is nearly impossible. Here's everything you need to know about how to hide ownership of a company.
How Do Anonymous Companies Work?
The majority of publicly listed companies provide owner information on their websites or in legal records. Organizations disclose this information to foster buyer and seller trust.
With an anonymous company, on the other hand, you don't need to reveal this information.
Even if you are required to fill out forms when forming the company, these records don't necessarily have to have your personal information on it. The paperwork could be filled out by people who have nothing whatsoever to do with the firm, for example, a professional registered agent. You can also include other anonymous companies, making it much more difficult to find the proprietors.
An operating agreement is a regulatory document containing the names of all LLC (Limited Liability Company) shareholders. While LLC members and executives can remain anonymous to the public, corporate officials and directors must be named when paying taxes. The identity of the owners of a regulated LLC is not obliged by law to be made public.
How to Hide Ownership of a Company
Below are three simple steps that you can follow to hide ownership of a company and subsequently prevent lawsuits.
1. Understanding Business Owner Privacy
Many business owners want to start their anonymous company to evade taxes, but some just wish to safeguard their identities. Some people value their privacy, and fortunately, there are ways to do just that.
In the US, some states encourage the idea of an anonymous company, such as the best anonymous LLC states. However, one of the registered agents must frequently be made public in these states, while the other officials and directors may maintain their anonymity.
You can nominate Northwest Registered Agent as your anonymous company's point of contact with state authorities. This is a great choice for privacy and anonymity as Northwest will handle all your data with the utmost confidentiality and will supply its own addresses and contact information instead of yours.
The business must also present an annual list of its officers and directors. At least a handful of the officers' complete names must be disclosed by the company.
2. Could This Anonymity Be Legal?
It turns out that incorporating an LLC with 100% anonymous owners has always been legal. This begs the question: "How is it carried out?"
The individual named in the public record is the one who prepares and files the Certificate of Formation. The LLC's member or manager does not have to be this person.
Every incorporated entity is required to have a registered agent. The company's official representative who can accept service in court cases or on any other official business is known as the registered agent. It doesn't need to be a manager or member. 
Even though the registered agent must have a point of contact at the LLC, such a person need not be a management or member. The owner of an LLC can appoint an agent to pay the franchise tax to conceal the identity of the members or managers. For complete business anonymity, hire Northwest Registered Agent for just $39.
While an LLC can avoid having its members or management listed publicly, this does not apply to banks. As a member, you may provide an Operating Agreement for the LLC as proof of ownership when opening a bank account. The identities of the members and managers are listed in the Operating Agreement, a legal instrument that governs the business.
Additionally, while corporate executives and directors are not required to be disclosed while paying franchise taxes, LLC members and management are permitted to maintain their anonymity.
3. How to Use an Anonymous Trust to Hide Company Ownership?
Avoiding potential legal ramifications is among the most popular justifications for concealing corporate ownership. An anonymous trust can shield a business owner from legal action. This is another way how to hide ownership of a company. The steps listed below can be used to establish an anonymous trust.
Create a Secret Trust
A series LLC can lessen legal responsibility but cannot prevent a lawsuit from being brought. However, starting an anonymous LLC might shield the business and its owner from responsibilities. Additionally, it might stop the case from ever occurring.
Indicate the LLC as Having the Unnamed Trust as a Member
You can list your private trust as one of the LLC's members. Since you are not required to submit this with the state, and it's legal, no one will ever learn the identity of the cops.
Utilize Your Anonymity
Large corporations are the target of numerous lawsuits that have financial motivations. Most people and attorneys won't file a lawsuit against a firm unless they think it has assets worth suing for. People are less likely to file lawsuits against an anonymous LLC since it conceals the company's officers and assets.
Common Myths of Anonymous Corporations or LLCs
Unknown Businesses Frequently Engage in Criminal Activity
This is untrue. Some businesses just want to avoid pointless lawsuits that could bankrupt their company and its assets.
Owners of Businesses Cannot Remain Unidentified
This is a myth as well. In some states, business owners can safeguard their identities by taking the proper precautions.
Companies Operating Anonymously Cannot Be Identified
This is also a myth. Nobody can promise complete confidentiality. Anonymity is not a guarantee, but it does help a corporation lessen its risk of being sued and avoid damage to its assets.
How to Hide Ownership of a Company – Conclusion
To sum it up, anonymity can be strived for but not guaranteed. Nonetheless, when you know how to hide the ownership of a company, you can escape lawsuits and hide your assets, and accomplish both without any legal constraints whatsoever!
Achieving complete business anonymity is possible if you have a good registered agent service to help you out. Register with Northwest Registered Agent to get a great deal for $39 only.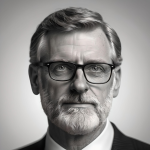 Dr. Alexander Sterling, Esq, a distinguished legal scholar with a business law degree and a Doctor of Juridical Science, is a leading expert in business registration and diverse business departments. Renowned for his academic excellence and practical insights, Dr. Sterling guides businesses through legal complexities, offering invaluable expertise in compliance, corporate governance, and registration processes.
As an accomplished author, his forthcoming book is anticipated to be a comprehensive guide for navigating the dynamic intersection of law and business, providing clarity and practical wisdom for entrepreneurs and legal professionals alike. With a commitment to legal excellence, Dr. Alexander Sterling, Esq, is a trusted authority dedicated to empowering businesses within the ever-evolving legal landscape.