(Last Updated On: December 10, 2022)
Our content is reader-supported. We may earn a commission if you make a purchase through one of our links.
Ever wondered if often interchangeably used terms, market research, and market analysis, don't mean the same or that your intuitive understanding of them can be wrong? Either way, we will clue you in regarding it. 
Here's what you need to know about market analysis, market research, and the differences and similarities between them.
Market Analysis vs Market Research – What's the Difference?
Market research is a subset of market analysis that mainly examines the market potential and gathers feedback for particular business decisions. In comparison, market analysis is an overall market outlook that pursues forecasting and growth options.
What Is Market Analysis?
Market analysis is a detailed assessment that puts together various data, such as market forecasts and conditions. It comprises a SWOT analysis to know the strengths, weaknesses, opportunities, and threats to a business.
It also includes competitive analysis and industry analysis. All this should be taken into account while considering mistakes to avoid when starting a business.
Conducting a market analysis is the blueprint for any successful business, and business owners always refer to market analysis while writing a business plan. Mainly, market analysis gathers information from secondary research that scrutinizes the existing information.
Why Conduct Market Analysis?
Market analysis gives a holistic outlook, which is of momentous significance for any business. The reasons for conducting market analysis are listed below.
1. Get a Glimpse of the Competition
Prior to registering a business and launching products and services, it's essential to know competitors, their market share, and brand value. The market analysis tells you all about it.
You can price your products and services as well as designate a business location by reviewing the course of competitors. It also provides you with insights into the industry and start-up costs.
2. Proper Interpretation of Market Conditions
With a better understanding of the market conditions, mainly the demand side, market analysis affords more clarity to business decisions with precision. For instance, if the market analysis shows that the demand has decreased drastically, businesses won't increase supply.
3. Improved Goal Planning
It helps to set strategic goals. Strategic goals deal with the expansion and retention of the company. Market analysis is the first thing that is taken into account when leaving or entering the market, as it foresees the potential of customers into new markets.
4. Flexibility
Business success is not all about running headfirst into the business goals as markets change with time. And with real-time knowledge of the ever-changing market, a business can revise its strategies.
5. Take Advantage of SWOT Analysis
Each business within a market has pros and cons. The trick is to use the pros effectively so that it outweighs the cons. You can run a SWOT analysis that will tell you about the strengths, weaknesses, opportunities, and threats your company is exposed to. You can enhance and overcome internal strengths and weaknesses, respectively.
Location, methods, and costs hint at the opportunities and threats. For instance, if your production cost is relatively lower or your business targets new markets, it'll count as an opportunity.
6. Run an Industry Analysis
Before starting a business, it's crucial to have an industry analysis that would include growth statistics and potential in upcoming years. Market analysis touches on industry analysis in quite a detail.
What Is Market Research?
Market research involves gathering feedback regarding product improvement and consumer perceptions, in which consumers usually fill out questionnaires or give interviews. It serves the purpose of improving customer satisfaction and developing brand loyalty by considering the preferences and needs of the customers. It also includes gathering real-time data on customer purchases, mainly through the internet.
By and large, market research stands tall on the shoulder of primary research. Primary research comprises information gathered directly by the researchers.
Why Conduct Market Research?
While focusing on particular aspects of the market, market research is unparallel. The reasons for conducting market research are listed below.
1. Discover When Most Sales Take Place
Businesses sometimes research the peak hours and days on which most sales happen for a particular product. For this purpose, companies hire researchers that collect data from different stores.
2. Find Your Audience
It identifies potential customers while addressing questions such as who uses the particular product or service. As consumption is a function of income, it also digs into the potential customers' income level and wealth status. It also explores factors like age, season, education, and marital status that determine consumption.
3. Conduct Targeted Market Campaigns
With perfect customer profiling, market research paves the way for starting effective market campaigns. A company can find platforms on which most customers exist, like different social media channels, such as Facebook and Instagram.
Your company can run its marketing campaigns on these platforms to attract potential customers.
4. Collect Data From Current Customers
It gathers more data regarding existing customers. Researchers use questionnaires to reflect on products and services to further delve into consumer preferences. The goal is to improve what you or the competitors are offering to what consumers really want.
It's easier to ask existing customers, as they are already buying your product, and it'll help in customer retention. Honest consumer responses help to understand the problems with your product or service. Putting in some effort would help your business to alleviate the consumers' concerns and achieve an excellent customer experience.
5. Avoid Making Poor Decisions
Market research helps to mitigate risks related to business decisions by providing and assembling all the relevant information. It's a top-notch tool to test the viability while launching a new product or service. It helps you to come up with a business idea like no other.
For instance, if a food company wants to add a burger to its menu, it can check the burger's viability and demand by offering it for free to its current and potential customers
6. Take Advantage of Unpopular Markets
It helps discover loosely grasped markets by competitors. You can flourish in such markets by only knowing the weak spots of the incumbent firms. You can hire researchers to identify where some customers are unsatisfied and why they are unsatisfied.
How Are Market Research & Analysis Different?
Now that you have some idea of market research and market analysis, we have discussed, in a nutshell, how these two are different.
Market analysis is general and offers a holistic view of the market. It comprises market research, competitor analysis, industry analysis, and SWOT analysis. On the other hand, market research is more particularized, as it provides a focused market view dealing with resolving questions regarding consumer preference and behavior.
In general, market research is less costly when compared with market analysis.
Market analysis assists in strategic decision-making and forecasting market size with more clarity when compared to market research.
Market analysis provides long-lasting insights, whereas market research usually covers trends that don't last long.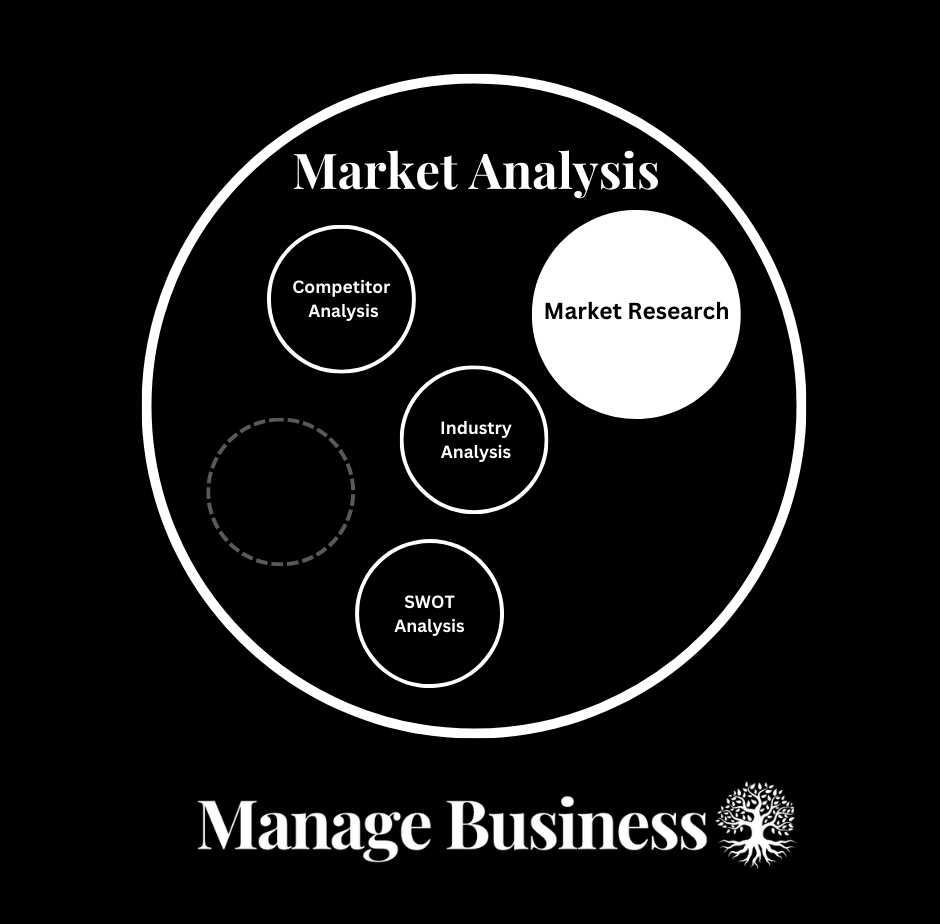 Similarities Between Market Research and Market Analysis
In the market analysis versus market research debate, it goes without saying that both strengthen each other. Both work hand in hand and serve the same purpose of making a successful venture.
Researchers conduct both market research and market analysis. In general, there are no specialized researchers for each task.
The approaches to conducting market research and market analysis are the same. Some recognized ways to conduct both tasks are face-to-face interviews, online questionnaires, phone, email, and focus group discussions.
Importance of Knowing the Difference
A proper understanding of the terms market analysis and market research is of paramount importance. For instance, you've instructions to hire a team to conduct a market analysis. Now you hire a team and ask them to conduct market research instead of asking them to conduct market analysis.
The team may ask about the hypothesis around which they have to conduct research. It can probably set you off balance, and you may have to approach your superordinate or colleagues, which is embarrassing in the workplace.
Market Analysis vs Market Research – Bottom Line
Market research is a subset of market analysis that mainly examines the market potential and gathers feedback for particular decisions. On the other hand, market analysis is an overall outlook of a market that pursues forecasting and growth options.
If you are trying to make your business venture successful, consider reading about business incubator programs.