(Last Updated On: September 12, 2023)
Our content is reader-supported. We may earn a commission if you make a purchase through one of our links.
If you're interested in candle-making as a hobby, converting it into a business is a wonderful idea. You can establish a candle business with minimal investment and limited equipment, and it can really pay back well.
In the US alone, the market size of the candle manufacturing industry was $2.3 billion in 2022 and it's growing steadily.
If you're good at mixing scents and love candles, you can turn this interest into a fruitful venture by starting your own candle-making business. Here's a helpful guide on everything you need to know about how to start a candle business.
What Is a Candle-making Business?
The candle-making business involves manufacturing and selling homemade candles. Scented candles are more popular, but you can sell non-scented ones as well. Some business owners sell their candles through resellers, for example, in gift shops, art and craft stores, clothing stores, and ecommerce stores.
Consumers buy candles mainly for home decoration. Making and selling eco-friendly candles from organic sources like beeswax and coconut wax has also earned a special space in the candle industry. By and large, stylish or luxurious candles encompass the candle-making market as well.
Pros and Cons of Starting a Candle Business
Every business has its advantages and disadvantages. Starting a candle business comes with its pros and cons too.
Pros
A candle business has a low cost of production so you can start it with a small investment.
You can use ecommerce platforms to sell candles.
You can start your candle business as a side gig and can easily work on weekends.
Candles give a nostalgic vibe and purchasing them has become a trend. Google Trends data shows a continuous hike in the search for the keyword "candle" in the United States.
The idea of using eco-friendly candles with little to no adverse effect on the environment is also a pleasing factor for customers.
The best part is that you can work from anywhere.
Cons
Establishing trust with customers is always a struggle.
Finding a suitable raw-material supplier can take some effort.
You can get fed up with the repetitive act of candle-making.
Any delay or deformity in candles caused by the shipping service can end up in a bad customer experience.
How to Start Your Candle Business
Understand how candles are made
Conduct market research for your candle business
Develop a business plan for your candle startup
Decide on a specialty
Master your craft
Find a manufacturing space for your candle startup
Register your candle business
Acquire relevant licenses for your candle business
Price your candles
Built an internet presence and market your candle business
Here is an easy step-by-step guide on how to start a business in the candle-making industry.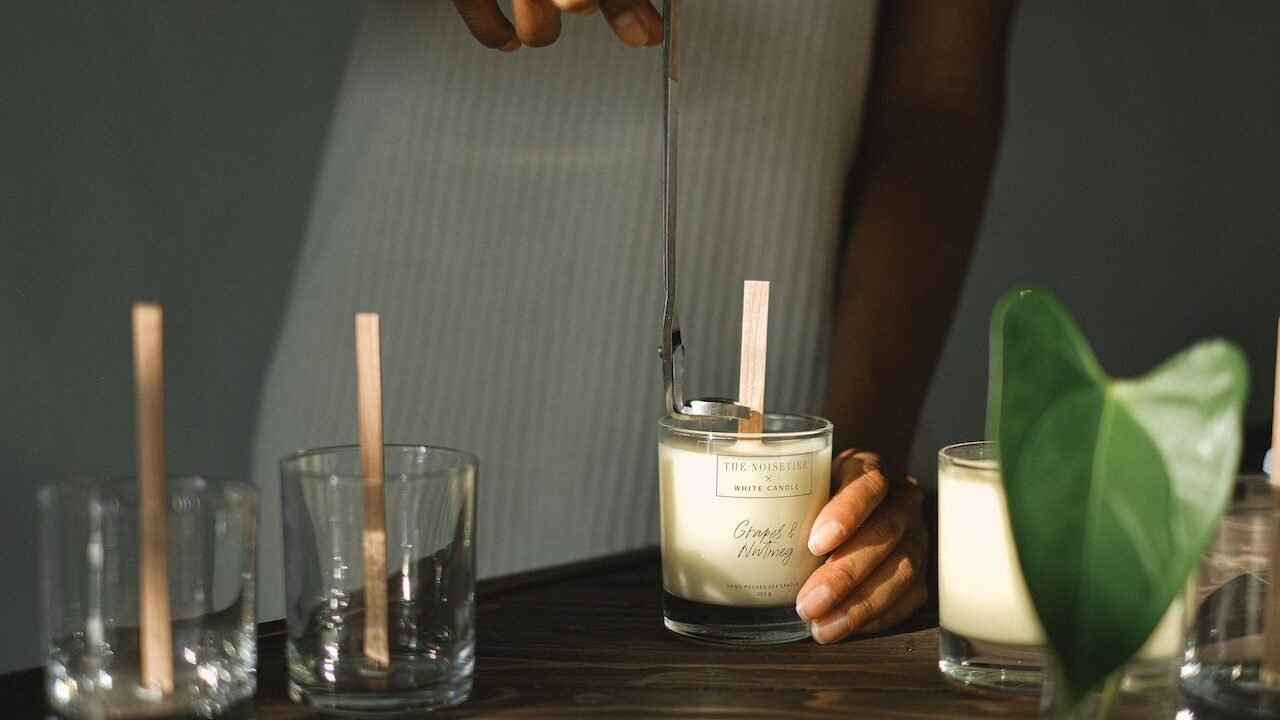 Step 1 – Understand How Candles Are Made
Raw Materials
First and foremost, arrange wax and wicks, the essential materials of the candle. You can add different dyes to the wax for a colorful appearance.
Hold the wick within the candle mold of the preferred shape and size. Next, fill the mold with wax. You can always use scented oils that produce fragrance when the candle burns.
You'll need safe packaging for shipping or even selling to vendors. Candles are solid at room temperature but can easily be molded and deformed. That's why you'll need packaging to protect your candles, so they stay safe from the surroundings when shipped.
Kraft paper, bio peanuts, and honeycomb cardboard wraps are a few options to restrict the movement of candles within the box. You can also use ice packs if you're operating in tropical climates.
Some indirect raw material includes beakers, a double boiler, a thermometer, and a weighing scale. And safety equipment includes gloves, protective eye gear, fire extinguishers, and fire blankets.
Step 2 – Conduct Market Research for Your Candle Business
The candle business has vast market options, and it's best to conduct a thorough market study before setting up your venture. Market research will definitely afford you more clarity.
It'll fill you in on product range, pricing, shipping, marketing, and the target audience. Some businesses offer several packaging deals & product lines and charge accordingly. Besides, you can get a rough estimate from your spending on shipping raw materials. Ecommerce platforms like Shopify and Etsy are the best in the market.
Market research will also address how many shipping options are available. For instance, some candle businesses have multiple shipping options, like 3-day or 5-day delivery. With prudent insights, you can also find out which shipping option works best in different markets.
Step 3 – Develop a Business Plan For Your Candle Start-up
Put together a business plan for your candle business comprising your target audience, strategies, and a conspicuous roadmap for achieving business goals. It's important to have that roadmap before registering your business.
Write an executive summary. Discuss market plans, financial plans, and operational plans. Describe your candle business in-depth and mention what would be a specialty of your candles and how many varieties you would offer.
Step 4 – Decide on a Specialty
There are different varieties of candles, and they all have their own market share. Search for candles on Amazon or any other ecommerce platform to see all available shapes and sizes. You can use your creativity to add new designs and shapes to your candles.
The National Candle Association estimates claim that over 10,000 different candle scents are available to consumers. There's a lot of diversity when it comes to candle colors too. Some popular fragrance options are amber, botanical, coffee, cotton & linen, festive, food, fresh, fruit, musk, rain, sea & ocean, spice, and summer.
Popular candle-making materials are soy wax, beeswax, citronella, gel, paraffin wax, palm wax, and synthetic wax. This also includes a plethora of color options to choose from.
It gets a lot simpler to decide on a specialty once you've got the know-how of what's in the market, what's in demand and what's missing, and what you can deliver.
Step 5 – Master Your Craft
Making candles is a special skill, and with time, you'll get handy with the candle-making process and customer dealing.
Maintain your quality and stick with it. For instance, a customer orders 100 vanilla soy candles and finds your candle quality pleasing. Next time, that client orders 500 vanilla soy candles, and deviating from that quality can lead you to lose that customer. You must always test your product and try to improve it.
Experiment with different candle scents and, when you know that you have created the right combination, provide it as a free sample to your clients. You can collect the response by emailing your clients. If they like your creation, they'll order more.
Step 6 – Find a Manufacturing Space for Your Candle Start-up
The best thing about the candle business is that you can start from home. If you are looking for high-level production and achieving economies of scale, you'll need a decent size workplace. It's important to pick a workspace beforehand.
Build a work environment if you are considering working from home. The surroundings must not be too cozy. It requires a commitment to perform the repetitive action of making candles and an overly serene environment can cause discordance.
Step 7 – Register Your Candle Business
The registration process may vary from state to state, and registering a small business like candle making with the government may not always be required. To start your candle business, you'll need to register your business first.
Before registering, you would need to come up with a business name. Make sure you give your candle's a great brand name that helps you grow your business in the future.
Step 8 – Acquire Relevant Licenses for Your Candle Business
To engage in the commercial activity of selling candles, you may need a seller's permit. And complying with tax laws, you would need a Sales Tax Permit. You may need consent from your house owner if you are renting.
If you're producing candles on a large scale, consider an in-home business policy against any loss and damage to the home from which you are operating the business. Workers' compensation would cover the injuries of your employees during work. A professional liability policy would cover claims against you and your company.
Also, read the legal requirements for starting a small business to make sure you've got everything in order and to avoid facing legal trouble down the road.
Step 9 – Price Your Candles
There are too many factors to consider that make pricing so overwhelming. Prior to pricing your candles, sum up the cost of production and also calculate the variable costs (the cost you'll bear based on the candles you are producing). In parallel, use market research information to know what others are charging in your targeted market for candles similar to yours.
The pricing must be close to the market rate, and you must have a reasonable profit after selling your candles. The only exception is when you offer sales influenced by the season. You can also give discounts to grab the market.
And remember, the price of selling a single candle and selling in bulk won't be the same. In a nutshell, market research is of great importance when pricing your candles.
Step 10 – Build an Internet Presence & Market Your Candle Business
In the candle business, building an internet presence is of pivotal importance. Create a business website with good graphic design and opt for a simplified user interface as 94% of visitors leave the website with poor graphic design.
Write blogs about your journey and set forth all the candle products that you are offering. Let buyers communicate their demands through your website. Make your business available on sites like Amazon and Etsy to maximize your reach.
Create a business page on social media platforms like Facebook and Instagram to grab clients and tell them about your latest business updates. If you are up for a sale or launching new candles, let everyone know through your social media platforms.
How to Start a Candle Business – FAQ
1. Do I really need to open a business bank account for my candle business?
Although it's a small business and you may not need investors, still it's best to open a business bank account for your start-up. Otherwise, you might miss out on the leverage of being on top of all your business transactions. It's important to know the total amount you have invested and how much you are earning.
2. How fruitful is it for employees to start a candle business?
Employees spend 30% of their time at work, clock in and clock out. Their jobs provide them with security and other financial risk-hedging. It's never easy to take a leap of faith and leave a job to start a business.

But you can start a candle business as a side gig. On weekends, you can learn how to make and sell candles at negligible costs. And, with time, you can achieve financial freedom. This part-time gig has the potential to make you your own boss, and that is one of the biggest reasons to start your business.
3. Is the candle-making business profitable?
With good sourcing, a candle-making business can be highly profitable and ranks high among the best small business ideas. It takes time to understand the market and meet consumer demand. You may make some mistakes at the beginning, from which you would definitely learn and thrive. With passion and dedication, a good profit margin is achievable.
4. How to make candles?
With a wick holder, hold the wick at the center of the candle mold a few centimeters above the mold. Fill the candle mold by adding heated wax after it has just turned into liquid. Wait for some time, separate the wick holder and pull out the newly made candle from the candle mold. 

You can mix fragrance oils or dyes after turning wax into liquid and before putting it into the candle mold.
How to Start a Candle Business? – Bottom Line
You can start your candle business with limited time availability, basic equipment, and minimal startup costs. Intensive research and focus on making a brand value for your candle business would lead you to success. As your business grows, you can achieve financial independence and hire people to make candles for your company.