(Last Updated On: September 18, 2023)
Our content is reader-supported. We may earn a commission if you make a purchase through one of our links.
Are you tired of navigating the complex and often confusing world of business formation and compliance? Look no further than this ZenBusiness review.
In this review, we'll take a deep dive into this innovative platform, exploring how it can help entrepreneurs and small business owners start and grow their companies easily.
From LLC formation to registered agent services and annual report filing, ZenBusiness has it all. So, let's explore the ins and outs of this powerful tool and see how it can take your business to the next level.
Start Your Business with ZenBusiness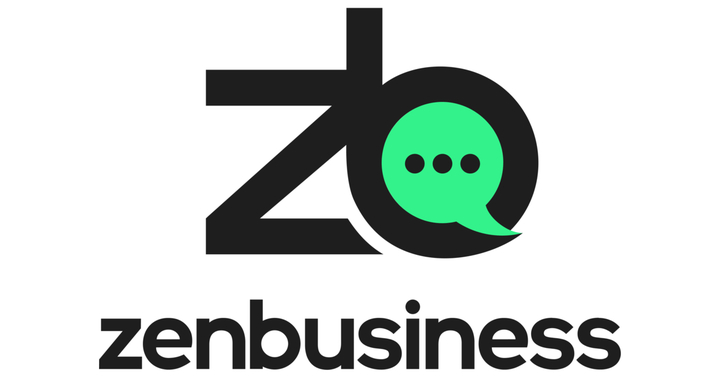 ZenBusiness is a public benefit company based out of Austin, Texas. The company is venture funded and was founded by Ross Buhrdord in 2015. The company's primary function is to provide everyday Americans with the tools they need to become entrepreneurs.
ZenBusiness offers various features to help people properly register their startups, assist in the early launching stages, and successfully grow a business.
ZenBusiness headlines in late 2021 announced that recent investments totaled more than $200 million. The latest Series C funding round raised their overall valuation to $1.7 billion.
The meteoric rise of ZenBusiness has made them Austin's fastest-growing business. It's also attracted the attention of big-time investors such as Mark Cuban, who recently joined as an advocate and spokesperson.
Our Verdict on ZenBusiness
ZenBusiness specializes in business formation services, and although it's a relatively new company, it's surpassing its competition with low-priced plans and high-quality customer service.
You can choose one of three plans to start a Limited Liability Company (LLC) or corporation, and each one includes an annual report service, so you can avoid missing any filing deadlines.
When you sign up for ZenBusiness, you can access features not typically included in other LLC services' plans. There's an invoicing app and operating agreement template, plus plenty of offers to help you beyond filing for an LLC.
The higher-tier plans include services to help you start a business, including Employer Identification Number (EIN) service, website domain and hosting, and expedited filing service.
Get a Business License with ZenBusiness
ZenBusiness at a Glance
ZenBusiness tops our best LLC services list for multiple reasons, including its affordability, ease of use, and its unique offerings. The company offers three paid plans to help you form your business, whether that's an LLC or corporation. Plans range from free offerings to $299 per year, plus state filing fees.
Each plan includes preparation and filing for your business entity and one year of annual report service. You'll also get access to an invoicing app for free, so you can send invoices to clients without the need for another piece of software.
The time it takes to form your LLC depends on the state in which you're filing and whether you choose a plan that includes expedited or rush filing.
Who Should Use ZenBusiness?
The services offered by ZenBusiness are specifically designed to help regular people become entrepreneurs. That includes startups, gig workers, online sellers, freelancers, artists, real estate investors, or anyone looking to register a business.
The process can often be intimidating for most people, which causes them to give up on their dreams early. ZenBusiness offers legal assistance during these critical, stressful, and confusing times.
It's worth noting that ZenBusiness specializes in LLC and corporation formations. They might recommend you form a partnership or sole proprietorship during your consultation. In that case, you might be better suited to look elsewhere for help registering your business.
Start Your Business With ZenBusiness
ZenBusiness Pricing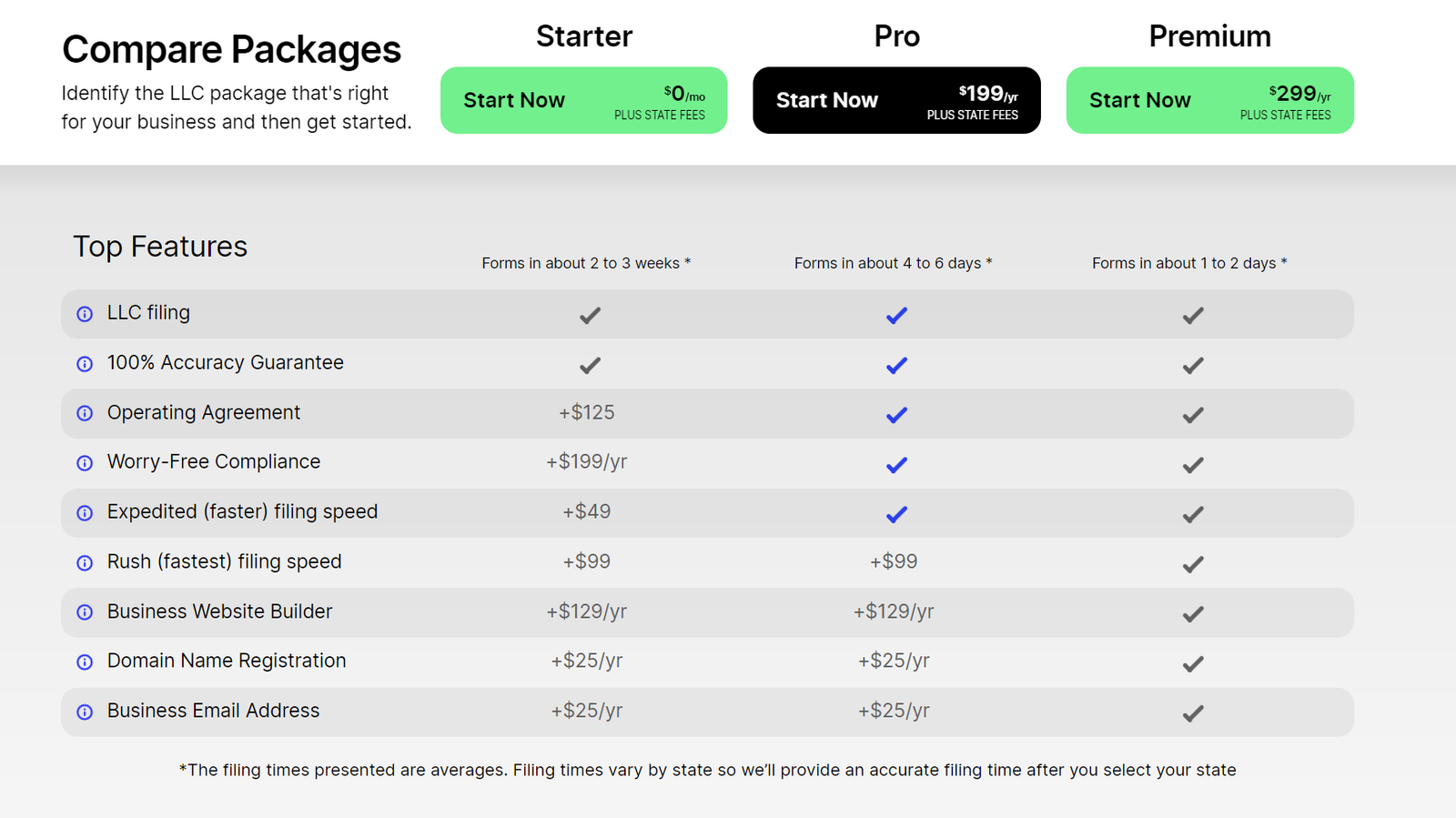 ZenBusiness offers three service tiers, varying in terms of the number of features included (and, of course, price). Anyone can start off at a more basic (and less expensive) service tier and upgrade as necessary afterward, which prevents you from overpaying for features and services you may not need.
You can also opt-in for certain services at an additional cost, such as a business website and domain name, while remaining on a lower-priced plan.
ZenBusiness Starter
ZenBusiness Starter costs $49 when billed annually, excluding state-level fees (which depend on your state and business entity type) or additional costs from add-on services.
With this plan, you'll be able to take advantage of the standard business filing service, which includes name availability search tools, standard filing speed, phone and email support, and access to your documents through the ZenBusiness portal.
You'll also get a complimentary year of registered agent support, which provides companies with a dedicated address for being served legal notices. Note that this service auto-renews at $119 per year once the first year of service is completed.
Plus, this service tier includes the production of operating agreements and bylaws, as well as a CPA assessment to help determine what kind of accounting and bookkeeping you may need for your business as it gets off the ground.
You can also incorporate a few a-la-carte options in this plan, such as expedited or rushed filing, employer ID number (EIN) registration, and website hosting, among others. These add-on services, of course, will each have their own respective fees.
Start Your Business With ZenBusiness
ZenBusiness Pro
In addition to the features of the Starter plan, ZenBusiness Pro steps up the offerings significantly by including expedited filing, banking resolution documents, employer ID number creation, and compliance checks and reminders.
This plan costs $199 annually, plus state filing fees and any additional features you might add to your package. You can add rush filing for a $100 fee, as well as a business website and domain registration for $100 and $25 per year, respectively.
ZenBusiness Premium
ZenBusiness Premium includes every service the platform provides for a $299 annual membership (plus state filing fees). This plan is a great option for business owners who want access to an all-inclusive legal service to handle all of the work that comes with starting a new business.
This plan includes all of the filing basics and registered agent service, as well as assistance with setting up a website, email addresses, and other ongoing forms that businesses need to file every year.
ZenBusiness A-La-Carte
ZenBusiness also offers a build-your-own package service, which allows you a greater amount of flexibility with the services you purchase.
To access this service, you'll have to register for an account and provide ZenBusiness with a fair amount of personal information. You can see all the pricing on a per-item level on the ZenBusiness pricing homepage.
Get a Business License with ZenBusiness
Is ZenBusiness Right for You or Your Business?
ZenBusiness is among the best LLC services for any business. The service is easy to use, and there are multiple add-on services you can choose to make a plan that fits your needs. If you're looking for an affordable and convenient way to form an LLC, ZenBusiness is an ideal pick.
What are the Pros of Using ZenBusiness?
The customer reviews for ZenBusiness have primarily been positive. Naturally, a few users have experienced some issues while using ZenBusiness. Here's an overview of the most commonly cited pros of ZenBusiness:
Pricing
Every dollar counts when your business is still in its infancy. Using ZenBusiness is among the cheapest costs for most services on the market. You'll likely be paying several times the money for similar features from competitors and ten times as much if you go through a business lawyer.
User-friendly
Creating your first business is a combination of exciting and terrifying. It can be easy to get overwhelmed. However, ZenBusiness provides careful and guided assistance during every step of the process.
Meeting your incorporation needs and filing deadlines is simple as a ZenBusiness customer, with ease of use on their online site and excellent customer support. You'll only need to spend a few minutes on your end, and ZenBusiness can take care of the rest.
Add-on features
There are a ton of specific add-on services that you can include in your plan instead of purchasing a different tier. These are a few of the most commonly sought-after services and their additional costs:
Standalone registered agent: $99 ($149 when with compliance assistance)
Expedited filing speed: $50
Rushed filing speed: $100
Annual report filing: $75
Filing amendment: $100
Certification of good standing: $75
Business license report: $99
Business document template library: $99
Business bank account: $110 annually
Banking resolution templates: $30
Employer Identification Number filing: $70
Worry-free compliance services: $119 annually
Business website: $100 annually
Domain name registration: $25 annually
Exceptional turnaround time
ZenBusiness is available in all 50 U.S. states (plus Washington, D.C.) and is exceptionally fast at forming a business, especially compared to other service providers. The most expensive pricing tier can have your business fully formed within a few days, even in the peak season.
The less costly plans won't get you through as quickly, but they're still relatively fast compared to other options. At worst, it should only take a few weeks for your business to officially register and form.
Get a Business License with ZenBusiness
Worry-free compliance
The legal responsibilities of owning a business never end. You'll need to file an annual report on a specific date every year. Failure to comply can result in severe financial penalties and the loss of good standing with the government.
It can be easy for something such as this to slip your mind as you settle into being a business owner. ZenBusiness can help to keep you in good standing by sending you reminders, auditing your report, and helping you file on time.
Accounting consultation
Setting up your accounting and finances is an often overlooked aspect of starting a business. It can be much more complicated than you might think and difficult to navigate independently.
ZenBusiness offers various accounting assistance, such as tracking invoices, filing taxes, and setting up your company books.
Online assistance
Establishing an online presence is essential for a modern business. Trying to go on your own when setting up your digital business can be time-consuming and expensive.
ZenBusiness offers assistance with building a website for your business, acquiring a domain, and establishing a business email address. These services will help boost your business's credibility and make it easier for customers to find it online.
What are the Cons of Using ZenBusiness?
Certain features are expensive
ZenBusiness offers a large variety of features for new business owners. The problem is that many of these features aren't beneficial for people only looking for registration help and filing documents.
While you can pick and choose the features you want, some common ones are expensive. For example, paying $70 for EIN filing is an expense that can be hard to justify purchasing.
Recurring registered agent fees
You will need the services of a registered agent during the first year of your business. Unfortunately, you'll still be paying for their services when you buy another subscription.
While you might need their help, it's improbable and will probably be a waste of money. You'll have to opt out of their services before incurring a $119 fee for another year of service.
Still, renewal is not mandatory, and unlike some competitors, ZenBusiness offers a 60-day refund policy which is very transparent.
Online features are lacking
The inclusion of online assistance is a feature of using ZenBusiness. However, it shouldn't be the primary reason you use their services.
As a bonus, the ability to build a website, select a domain name, and set up an email is very generous. But you can find much better options if that's what your business needs.
ZenBusiness makes straightforward legal filings easier and more affordable for small-business owners. With ZenBusiness, you can prepare and file your own business formation documents, avoiding the need to bring lawyers or other potentially costly professionals in to do the work for you.
If you've tried to go it alone in terms of carrying out one of the many legal steps required to start a business, you know how challenging it can be to make sure you've taken care of each and every task, especially when states vary in terms of business licenses, requirements, and forms.
Not only does this require steadfast attention to detail, but it also takes up a significant amount of time on your side (and can take a long time for the state to approve your documents).
Luckily, as an online business formation service, ZenBusiness makes it easier to keep track of these tasks, as well as many others that you are likely to encounter as your business grows.
Although the features you receive with ZenBusiness will vary based on your pricing plan and location, some of its most noteworthy services include:
Business formation (LLCs or corporations)
Name availability search
DBA registration
Operating agreements
Federal employer ID number
Ongoing state compliance requirements
Annual business reports
New York state business formation publication
Filing amendments
Certificates of good standing
Banking resolutions
The ZenBusiness suite of services also includes add-on features, such as a complimentary assessment from a certified accountant to help set up bookkeeping, accounting, and tax considerations within your first year of operation.
You can also acquire a business domain name from ZenBusiness, get quotes for business insurance from leading providers, and weigh your options for the best business credit cards from within the platform itself.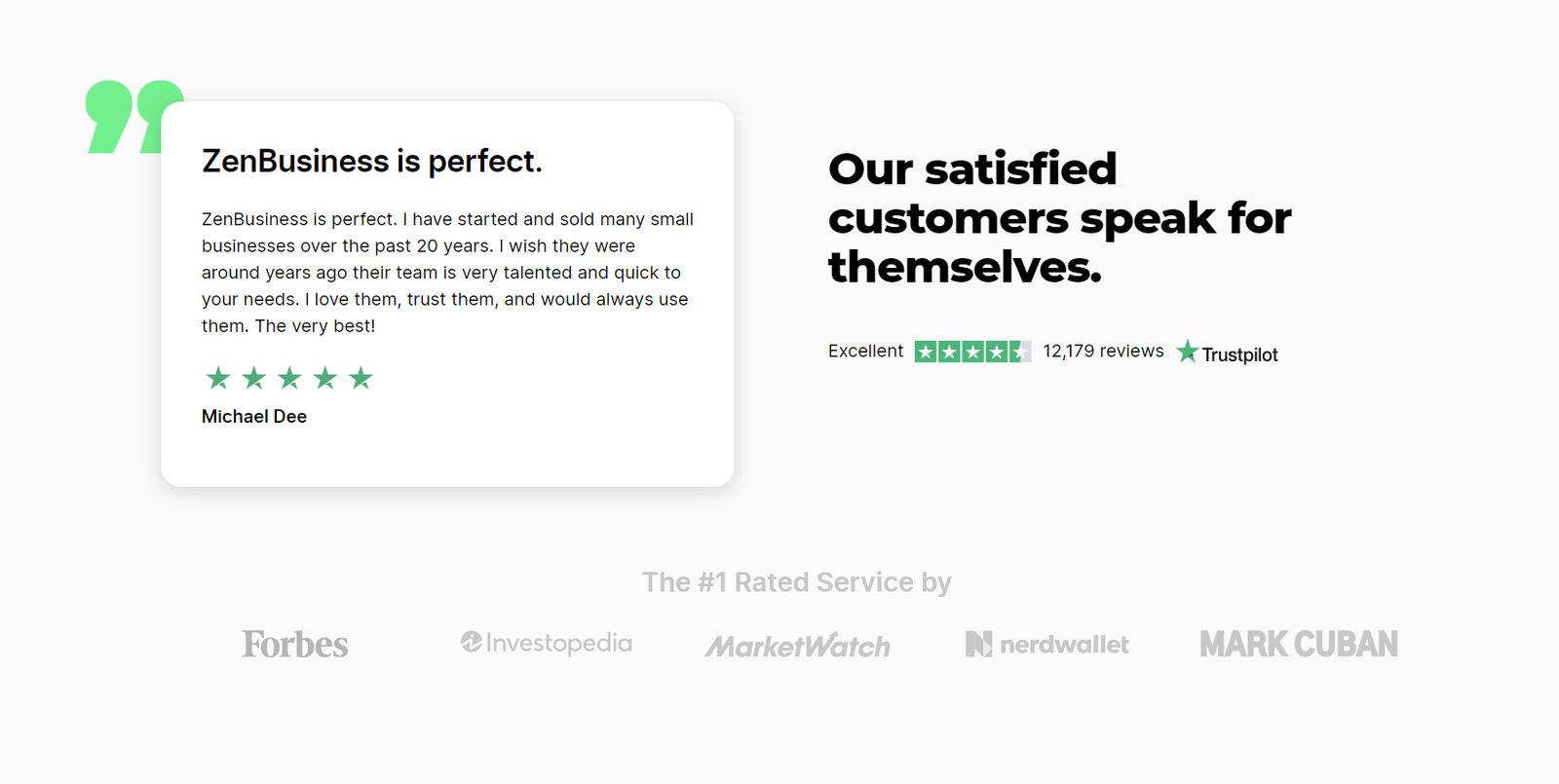 To save you some time, we looked through a ton of online ZenBusiness reviews to find out what real people thought of it based on their personal experiences with the service. This will help you get a solid answer to the question of whether ZenBusiness is a legit service and if it works.
User reviews from Trustpilot
ZenBusiness has a star rating of 4.5 out of the 11,892 total reviews posted on Trustpilot, which indicates that most customers are satisfied with the service.
Start Your Business With ZenBusiness
Alternatives to ZenBusiness

Swyft Filings is an LLC formation service specializing in fast and easy LLC formation. They offer a wide range of LLC services, including incorporation, compliance, and registered agent services.
Swyft Filings also provides personalized support to help businesses navigate the LLC formation process and stay compliant with state and federal regulations.
Tailor Brands is an online branding and design service that helps businesses create a professional and cohesive brand identity.
They offer a range of branding packages that include logo design, business card design, and social media branding. Tailor Brands also provides a suite of design tools and resources to help businesses create and customize their own branded assets. Read our Tailor Brands review for more information.
Northwest Registered Agent offers personalized support and a range of business services, including registered agent services, compliance management, and document filing.
They specialize in LLC formation and provide ongoing support and resources to help businesses stay compliant and grow. Northwest Registered Agent is a trusted partner for LLC formation services.
Read our Northwest Registered Agent review here.
Try Northwest Registered Agent
ZenBusiness Review – Frequently Asked Questions
The following are some common questions people ask about ZenBusiness and its services.
Is It Worth It to Pay $119 for the Worry-Free Compliance Guarantee?
The worry-free compliance guarantee service ensures thorough audits of your business formation documents. This ensures you maintain good standing with the state and IRS. The service also sends annual filing report alerts to protect you from incurring penalties caused by missed deadlines.
The service guarantees:
1. Annual filing report alerts
2. Two yearly filing amendments (you cover the incurred filing fees)
3. Submission of any relevant documents (you cover your state filing fees)
4. Coverage for any penalties caused by missed deadlines or noncompliance with state requirements
Start Your Business With ZenBusiness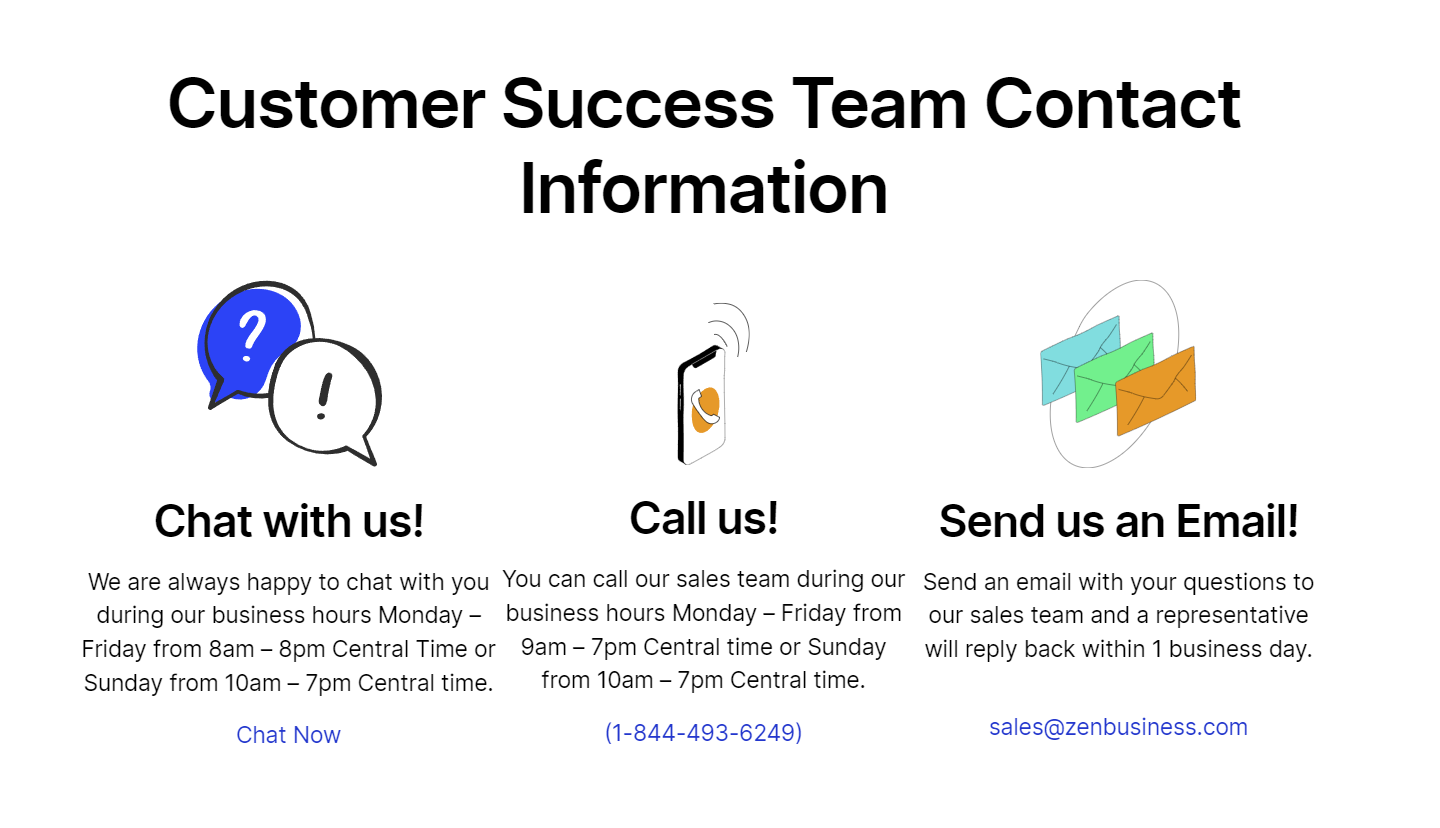 ZenBusiness has a pretty responsive customer support team. You can reach out via phone, chat, or email from 8 a.m. to 8 p.m. Central Time during the weekdays.
Support is also available from 10 a.m. to 7 p.m. on Sundays. You can contact the support team by calling 844-493-6249 or emailing support@zenbusiness.com.
Is the ZenBusiness Registered Agent Service Necessary?
Yes, it is. By law, every business must have a registered agent service. ZenBusiness is a registered agent service that can receive important official government correspondence, tax forms, legal documents, and notices of lawsuits on your behalf.
Bottom Line on ZenBusiness Review
ZenBusiness provides excellent service for relatively low prices. Their long list of features that come with a subscription is well worth the cost. While there are a few minor issues with it, it's a top option for registering your business.
Registering a business can get tricky, with formation documents, state filing fees, formulating a business name, and a host of other things to consider. You may want to shop around and compare business formation services, but you should consider ZenBusiness a leading candidate.