(Last Updated On: September 13, 2023)
Our content is reader-supported. We may earn a commission if you make a purchase through one of our links.
Some leading reasons to start your own business are that it gives you the freedom to set your own schedule and terms. Plus, it's a great stepping stone to achieving financial freedom. If you're thinking about starting a pressure washing business, here's a guide just for you.
Pressure washing ranks high on the list of the best small business ideas. It's something you can start with minimal investment.
If we talk about market trends, the global pressure washing market size was $2.6 billion in 2021 and is expected to grow to $3.1 billion by 2027.
What Is a Pressure Washing Business?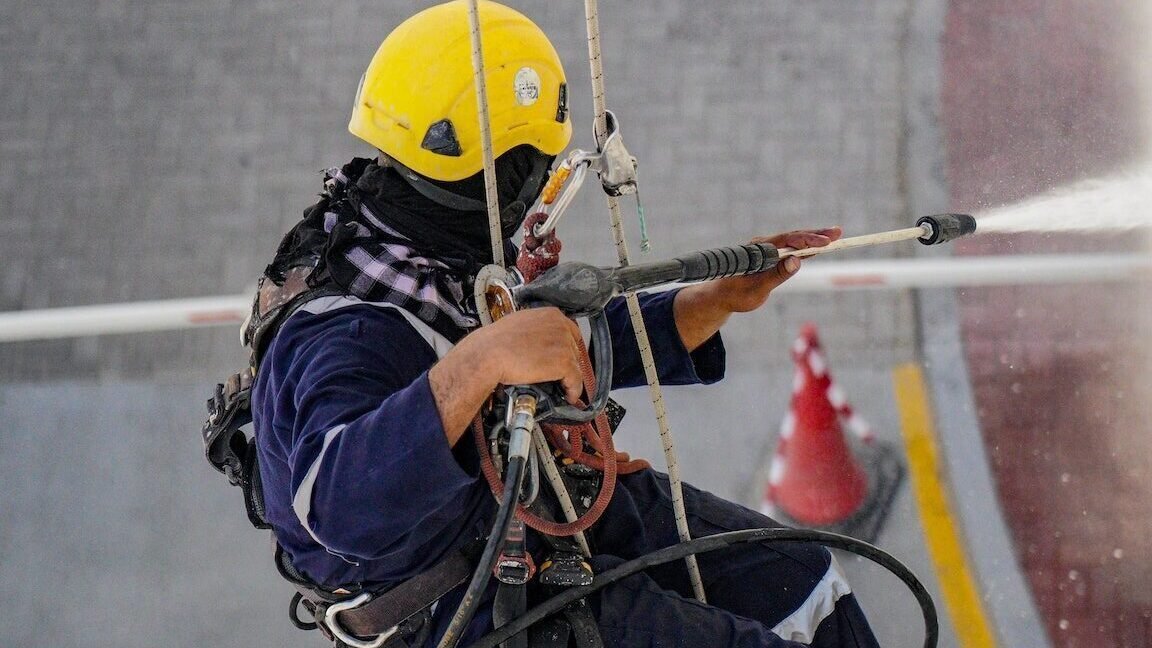 The pressure washing business, or power washing business, is one of the best cleaning business niches. It involves getting paid to clean roofs, driveways, vehicles, and other concrete surfaces using pressure washers.
Residential and commercial sectors demand power washing services. Usually, commercial sectors pay more and offer work on a large scale. Sometimes, the risk factor increases, especially in commercial sectors, where there's a need to climb ladders and deal with slippery moss frequently.
You can get paid by working hourly or by cleaning the area per square meter (or any other parameter depending on your location). In both cases, prices vary with the services that you offer.
Pros and Cons of Starting a Pressure Washing Business
Starting any business has its advantages and disadvantages. The same is true when you start a pressure washing business.
Pros
You can start a pressure washing business with low startup costs
With thorough market research, you can find less competitive neighborhoods
Hiring a large staff isn't necessary, you can venture out on your own with the right equipment and skills
You can quickly reach break-even and start making a profit
You would receive your income instantly after providing satisfactory services to your clients
Your clients can refer new clients to you if you are good with your work
You can set your own work hours
Cons
The pressure washing business slows down as winter approaches, and most people prefer their improvement-related projects to be done by spring or summer
With power washers spraying water at high pressures, the probability of damaging the surroundings tends to be high
People clean their floors and roofs only once a year, which means you would need to find new clients constantly
Finding work every day is not always possible
Climbing up or down a ladder and working with power washing equipment is dangerous and tiresome
How to Start Your Pressure Washing Business?
Understand & acquire pressure washing equipment
Conduct market research
Create a business plan
Register your business
Raise capital for your business
Get your business's finances in order
Set a price for your services
Find a location for your startup
Acquire the relevant licenses
Establish marketing channels for your business
Here's an easy step-by-step guide on how to start a business in the pressure-washing industry.
Step 1 – Understand & Acquire Pressure Washing Equipment
Before entering the power washing industry, it's of foremost importance to familiarize yourself with its equipment.
First of all, you would need an electric pressure washer. You can purchase a brand-new one with a warranty or a secondhand one from online stores or local hardware stores. A pressure washer comes in different varieties and prices, such as lightweight or heavy-duty pressure washers.
Other equipment you will need includes lightweight foldable ladders, hoses, nozzles, and cleaning liquid. You'll also need a vehicle to haul your equipment.
Become a Pressure Washing Pro
If you want to grow your pressure washing business, customer retention and word-to-word marketing are among the essentials. To have it all done smoothly, you need to be good at your services, which would definitely require practice.
You can't just show up at your clients' place with zero experience with power washing. Your client might hire you to clean surfaces with sensitive surroundings, like flower beds or expensive marble, and not knowing enough about the work can sabotage those surroundings in a split second.
When it comes to operating equipment and customer dealing, you can learn a lot from doing online research. After getting the know-how of relevant equipment, you can rent equipment or work with pressure washing companies.
Practice using the equipment. While doing so, you can offer pressure washing services to your neighbors and friends for free. This will also help you spread the word about your business.
Step 2 – Conduct Market Research
Market research is the cornerstone of starting any business. It'll help your pressure washing business to know about the market and the competition so that you can devise strategies to stand out among your competitors.
It would point you in the right direction when considering the best location to start or pricing your services. For instance, market analysis can hint about where to start your power washing business by telling you where your competitors are less dominant. Also, the competitors' service pricing would help you while charging your services.
You can hire researchers to collect data from questionnaires and interviews with potential customers, and go through all the accessible data. You can also find relevant statistics at negligible costs.
As the business owner, you can also run a SWOT analysis to know the strengths, weaknesses, opportunities, and threats to your power washing company.
Step 3 – Create a Business Plan
Your business plan would be a dynamic document that would map out a plan of action to achieve your power-washing business goals. It also makes it simpler to secure business loans and find a business partner. It also helps while making a move for an exit strategy.
Investors, potential partners, and acquirers see into a business plan before finalizing their decision. Writing a business plan consists of an executive summary that highlights company goals and a roadmap. It includes organizational structure, services, marketing plan, financial plan, market analysis, HR policy, and strategic goals.
Decide on a Specialty
Deciding on a specialty depends on your equipment and skills. For instance, cleaning wood surfaces with a pressure washer can be difficult. Moreover, be very careful with vehicles, as high-pressure water spray can cause dents. Power washing glass windows and electrical equipment is another no-go area. So it's definitely okay to pick a specialty.
Step 4 – Register Your Pressure Washing Business
You might want to register your business if you want to build a pressure washing company. It's the ultimate key if you want your power washing business to become a legal entity and build brand credibility.
Moreover, registering your business keeps it safe from lawsuits. Plus, all of your business assets remain legally protected, based on the business structure you choose.
Visit Northwest Registered Agent to register your business for just $39.
Choose a Business Name for Your Power Washing Business
You'll need to come up with a unique business name for your power washing business. Keep it simple and creative. Consider scalability while settling on a business name. And don't mimic the names of your competitors. You'll brand and market your services around your pressure washing company's business name or DBA.
Further paperwork awaits you once you've chosen a business name. The registration process is not always the same in every state. Prior to registering, fulfill all the legal requirements for starting a small business in the power washing industry.
Step 5 – Raise Capital for Your Business
It's easier to finance your small business when compared to raising capital for large businesses. Typically, starting a power washing business is a one-time investment. Still, you would need capital to operate once you have attained the equipment and licenses.
There are several ways to raise capital for your business. When it comes to the power washing business, you won't need enormous investments.
You can use personal savings or ask family or friends to help support your business. Moreover, you can use credit cards to start your business.
Other conventional ways include taking business loans from banks. It's also preferable to approach investors or investment banks. For this, you would need a convincing business proposal. If you've started a corporation, you can offer some part of corporate ownership by issuing shares to raise capital.
Step 6 – Get Your Business's Finances in Order
Sometimes, small business owners remain indifferent about their business cash flows. You must be very cautious about your power-washing business transactions. Hiring a bookkeeper would make things easy for you. Besides, you can use some app or software to keep transactional records.
Discern Your Break-Even Point
Make an equipment log to keep a track of the equipment you've bought for starting your power washing business and calculate fees for all the paperwork. Once you have calculated your startup costs, sum up your profits to know if you've reached break-even.
As mentioned above, with a power washing business, you can promptly receive payments for your services and reach break-even and profits. It'll give you an idea of your business performance.
Open Your Business Bank Account
Using a personal bank account as a substitute for a business bank account is the most naive thing a business owner can do. Open a business bank account for all your power-washing business-related transactions.
It's almost impossible to trace business transactions using a personal bank account. With a business bank account, it's easy to keep a record of your pressure washing company's inflows and outflows.
For instance, if customers pay you through a bank account, it would be easier to track the revenue inflows if you've dedicated a separate bank account for your business. On the flip side, it'll be difficult to constitute the status of received payments.
Step 7 – Set a Price for Your Services
Finding a sweet spot when pricing your pressure washing service is important. When you ask too much for services, clients opt for your competitors. And asking less could make your startup vulnerable, as your costs could prevail over your profits.
Market research helps you walk a fine line with pricing your services. Carefully analyze the stature and prices of your competitors.
Step 8 – Find a Location for Your Startup
Be very meticulous about designating a location for your power washing business. States have different tax laws and business regulations. Read our article on the best states to start a business to learn more.
For instance, you are starting your power washing business near your residence. You'll need to rent a place for your business in the commercial area. Try to settle in a neighborhood that is not expansive and comprises a good deal of potential customers. Market research and a property dealer can help you with that.
There's no need for a massive workspace, as the power washing business falls into the service industry. You may need an office to operate. You can arrange meetings, take client calls, and discuss the business roadmap from your office. Most importantly, you'll need space to store your power washing equipment.
Step 9 – Acquire the Relevant Licenses
To start a business in the pressure washing industry, you'll need all the relevant licenses and permits. Generally, businesses need licenses from local, state, and federal authorities. For a small business like pressure washing, visit the SBA website to learn about the required licenses and permits.
You might need a general business license for your power washing business. It's required in almost every state to run business operations.
You may also need a home occupation permit if you use your home for your startup. If you are starting your business in a residential area, and as an employee, you may need the homeowner's consent.
And complying with tax laws, you would need a Sales Tax Permit. Environmental permits might be necessary if you are using cleaning chemicals. These chemicals must be eco-friendly.
Step 10 – Establish Marketing Channels for Your Business
Marketing is paramount no matter what business you start. For launching a power washing business, you would need to rely heavily on the online market.
For starters, create a business website for your power washing business, and come up with a domain name that would be your business name or DBA (Doing Business As). Write relevant blogs about your services and add FAQs to your site. Also, share your journey and triumphs to engage people and make yourself reachable through your business website.
Presence on social media sites like LinkedIn, Instagram, Twitter, and Facebook would also help you find new clients.
You can use typical ways to build marketing channels. For instance, you can use the decal on your truck to spread the word about your power washing business.
How to Start a Pressure Washing Business – FAQ
1. How do pressure-washing companies get clients?
Pressure washing companies get most of their clients through internet marketing. They sometimes receive referrals from their clients, and they also re-target their clients. Moreover, clients read reviews from sites like Yelp to find local power-washing companies.
2. Is it possible to start a pressure washing business as a side gig?
Yes, you can start a pressure washing business as a side gig. You can pursue this gig during weekends and on other off days. But if you want to make it big, it's best to work full-time.
3. Is starting a pressure washing business worth it?
It's definitely worth it. You can start a pressure washing business with minimal investment, and just like any other home service business, it's highly lucrative. You don't have to quit your job for it and you can work your own hours. Lastly, you won't need large storage spaces to keep the equipment.  
How to Start a Pressure Washing Business? – Bottom Line
You can start your pressure washing business with minimal cost. Gain experience using the equipment and you're all set to go. Operating through legal channels and commitment with essentials like market knowledge, business plan, and marketing will be your master plan of success.