(Last Updated On: September 13, 2023)
Our content is reader-supported. We may earn a commission if you make a purchase through one of our links.
The landscaping business is a broad and colorful line of work. A person taking a walk would definitely pass by parks, grasslands, and gardens that come under the umbrella of landscaping.
Landscaping refers to altering the land to beautify it and add aesthetic value. It's all about keeping outdoors pleasurable.
Despite all its broadness, it ranks high among the best small business ideas. It doesn't require large garages and offices to start a landscaping business. You can easily start one from scratch.
Here's a step-by-step guide responding to queries about how to start a business in the landscaping industry.
What Is a Landscaping Business?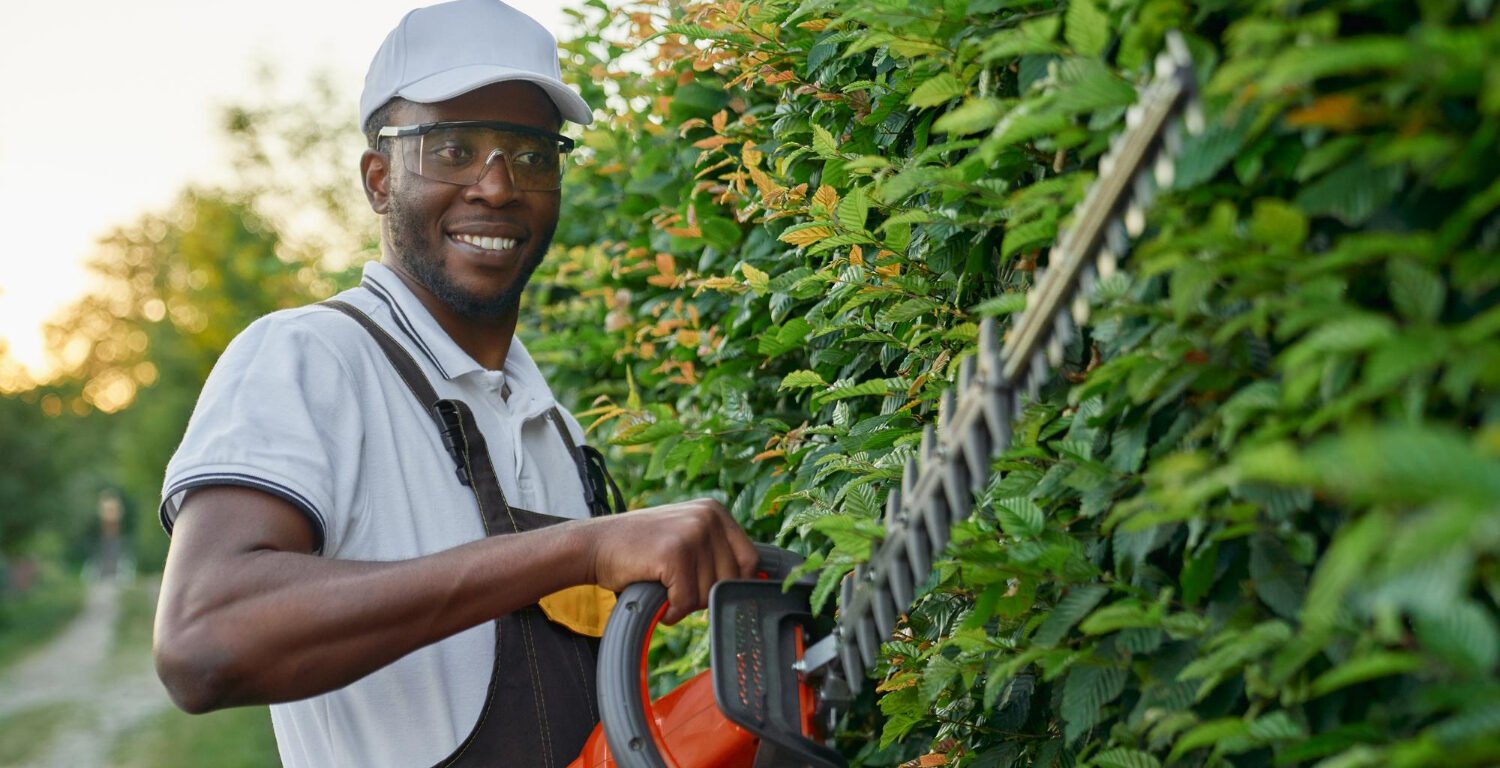 In general, landscaping services include maintaining land, yards, gardens, lawns, and everything within it. Its scope embraces installing sod, sidewalks, fish ponds, fire pits, pots, irrigation systems, benches, and pergolas.
Furthermore, gardening and forest-related stuff like earth moving, mowing, weeding, trimming, cutting, and sowing are tasked to landscapers.
Households, the private sector, and the government demand landscaping businesses for their services.
Pros and Cons of Starting a Landscaping Business
Pros
Landscaping is not a seasonal business. Landscapers' services are required 365 days a year. Every university, hospital, and mall includes lawns or parks within its premises that require maintenance periodically. Services of landscaping firms are needed every now and then.
Curiously, winter doesn't slow down the landscaping business. Local authorities hire landscaping firms to cover plants with straws and polythene bags on extreme winter days on a large scale.
Besides, working in a natural environment is something that fascinates many.
Cons
On the contrary, recruiting and selecting qualified and skillful workers is an arduous struggle. Moreover, it's noteworthy to retain employees on which you rely.
For instance, you are providing pruning and weeding services. You have the equipment and an employee who is very handy with it. If that employee resigns, your company would have to suffer. Problems would include updating the status of the available services, filling that gap with a new employee of similar competencies, and that equipment would be of no use during all that.
How to Start Your Own Landscaping Business
Get familiar with the types of landscaping services and equipment
Market research for landscaping business
Drafting a business plan
Register your landscaping business and acquire relevant business licenses
Get insurance
Price your landscaping services
Build an internet presence
Market your landscaping startup
Consider a business bank account
1. Get Familiar With the Types of Landscaping Services & Equipment
The best way to start a landscaping business is by familiarizing yourself with landscaping services. Some of these services are:
Landscape Designing: It refers to designing landscapes and making them practical. It's a bit of a technical field but with the right team, it's doable.
Hardscaping: It includes adding ornamental features and deals with erosion fixtures
Aeration: It's a fertilizing technique with which small holes are made in the soil.
Landscape Maintenance: It is the most demanded of all landscaping services. This service includes maintenance periodically.
Now that you understand landscaping services, the next thing you want is to have the know-how of landscaping tools. Some of the equipment used in the landscaping business are gloves, safety glasses, earplugs, helmets, plant trimmers, lawnmowers, edgers, hammers, shovels, leaf blowers, snow blowers, spray machines, buckets, and transport vehicles.
2. Market Research for Landscaping Business
Market research is a cornerstone of starting a landscaping business. We have mentioned the wide range of equipment and services that make up the landscaping business. You cannot possibly acquire all equipment and start offering all services at once.
With help from market research, you can hand-pick the service that's most in demand in your area so you can build your landscaping company gradually. On top of that, handpicking services according to your capital would be effective.
You can also start a lawn caring service with minimal investment. Weeding, tilling, seeding, fertilizing, and spraying would not require a large investment. Nor do you need an established site. You can start your landscaping business from scrap.
IBIS World, Business Plan, Market Research, or nearby market researchers can best fill you in. Do study your competitors and potential market before stepping into the landscaping business.
3. Drafting a Business Plan For Your Landscaping Start-up
Drawing up a business plan for your landscaping start-up is a must-have strategic tool. Basically, a business plan is a document and a road map that encompasses objectives and plans to reach strategic business goals.
From finding business partners to raising capital for your landscaping company, your business plan will assist you through thick and thin. Here's what your landscaping business plan should include.
What Services You'll Offer
When drafting a landscaping business plan, you have to be sure about the services that you'll offer.
As mentioned above, it's a versatile field, and offering too many services translates to too much equipment, employees, and overall, a large investment. Which could be a colossal mistake.
For instance, you can lay the foundation for your landscaping company with conveyance and a mower tool (or tools) and can incrementally add new tools.
Location for Your Landscaping Business
As you are decided on the services, now is the time to find a suitable location for your landscaping start-up. Lavished offices and large stores are not necessary. All you need is a reasonable location from where your business can cover a large market. Rent and service pricing is different in every state, so find out the best states to start a business.
4. Register Your Landscaping Business and Acquire Relevant Business Licenses
The registration process and fees vary depending on the place from where you are operating. You would need to come up with a business name prior to applying for a license and registering your business.
With market research and a business plan being done, you'll have to acquire all the relevant licenses for your start-up.
In some states, all you need is a business license to start your landscaping business. Pay a visit to the licensing department of your county to know about the required paperwork. 
Some other licenses you may need are a general license and a contractor's license to do the hiring and to carry out contracting work.
Government tenders require licenses for the companies to bid. Depending on your state laws, you may need to go through some additional processes.
Do consult regulatory bodies regarding it and don't forget to renew your licenses when the time comes.
5. Get Insurance for Your Landscaping Business
Apart from registering and licensing your landscaping business, business insurance is a must before you can start operating in most states.
There are reasons to start a business which by and large are profit maximization and cost minimization. Insurance is by far the best risk hedger that protects your business against financial losses.
As your landscaping company grows, you'll have employees and equipment worth a lot of money. With time, it will become more and more important to have insurance, so better to start off with one.
Some insurance options for your landscaping business include:
Business Owner's Policy: It covers almost everything for small to medium-range businesses
General Liability Insurance: It covers lawsuit risks and losses that come within the program
Workers' Compensation Insurance: It covers employees in case they get injured doing work or if they get sick due to work
Commercial Vehicle Insurance: It covers damages made by a commercial vehicle under limits defined in the agreement
Commercial Property Insurance: It covers the company's physical assets from fire, theft, natural disasters, and so on
You can tell insurance companies about your business and equipment. They will put forward appropriate insurance programs for your specific business.
6. Price Your Landscaping Services
Pricing strategy is momentous, that's why you should be very careful while pricing services.
Revisit the market research for your landscaping firm and begin with a chart comprising the prices charged by the competitors and study it under different lights.
For instance, on average, competitors charge 10 units (any currency), and the top firms demand 13 units to remove unwanted plants. It would be reasonable to float near the average.
Also, transportation costs do influence prices, and customers naturally flock toward the nearest landscaping company.
7. Build an Internet Presence for Your Landscaping Business
With working on building an Internet presence for your landscaping business, consider creating a business website and coming up with a unique domain name. A client approaches most landscaping businesses through the internet. Social media sites like LinkedIn and Facebook also contribute to finding customers.
8. Market Your Landscaping Start-up
Hire marketing experts and go above and beyond with it. Well-established firms spend a healthy amount of money to market even though they have a reputation and a large share of the market. New landscaping start-ups would need to be meticulous with marketing.
9. Consider a Business Bank Account For Your Landscaping Business
Open a business bank account before receiving any business-related payment. Reconciling personal and business bank accounts is out of the question and not recommended. Furthermore, reliance on financial statements by audit agencies is no secret.
How to Start a Landscaping Business – FAQ
1. Is the landscaping business profitable?
IBIS data shows landscaping service industry revenue in the USA was $128.8 billion in 2022 and it's significantly growing. It's an enormous industry and big players are minting money. 

However, start-ups can achieve good profits by carefully picking the right services. If profitable businesses interest you, read our article on the 25 most profitable businesses. 
2. How to avoid failure in the landscaping business?
Long-existing businesses do find a way to prevail. But for start-ups, a careful ascending approach by expanding the sphere of influence in the landscape sector would be most opportune.

Moreover, many landscaping businesses fail to cut it when it comes to effectively managing the costs. Avoiding such mistakes would pave the way for your landscaping company to prevail.
3. How to make the landscaping business more profitable?
You can make your landscaping business more profitable by overpowering revenue with costs (overhead and production). Then work on taking hold of the market and increasing the sphere of services. 
4. How to raise capital for the landscaping start-up?
Although landscaping start-ups do not demand large capital, still overhead costs are there. With doable business plans and goals, you can raise capital from investment banks or can directly approach investors.
5. Is offering a wider range of services beneficial for the landscaping business?
Offering a wider range of services can upsurge the risks. If you have the skills and equipment to carry out multiple services, you can give it a try. 

Initially, start according to the skills and capital you can amass for your landscaping business.
How to Start a Landscaping Business? – Conclusion
A landscaping business is a small to medium-range business that you can start with minimal capital and one can prevail through market study, dedication, and hard work on top of everything.
And, here's a quick recap. Get familiar with landscaping services along with equipment, and thorough market research. Decide on your services and acquire licenses and insurance. With careful pricing, do market your business, and you are all set to go.